IN an effort to ensure that foods consumed by Guyanese are wholesome and healthy, the Pesticides and Toxic Chemical Control Board (PTCCB) will soon conduct chemical-residue analyses on local products and produce.
"We will soon know what is hitting our markets, because we will do a residue analysis on products across the market place and also be able to guide producers towards farm certification," said PTCCB Senior Inspector Suresh Amichand during an exclusive interview with the Guyana Chronicle.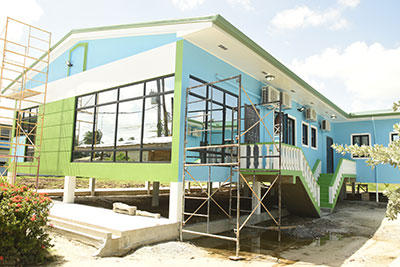 He explained that for the first time, the PTCCB will be able to test for chemical residue once their new $140 million laboratory facility is furnished.
The laboratory is located next to the PTCCB headquarters at Agriculture Road,Mon Repos, East Coast Demerara (ECD).
Amichand said the tests will be conducted by trained chemists, who would be constantly sensitised by the PTCCB regarding modern standards and new methods of testing for chemical residue.
"Every year we train people… so we have qualified persons who will conduct the various tests," said the senior PTCCB inspector.
Guyana currently racks up a hefty bill, because the PTCCB sends items to Jamaica or Trinidad to be tested for residue of pesticides and toxic chemicals.
Once the lab is completed, Guyana hopes to extend its services to countries in the Region.
Even the crops produced by farmers, the senior PTCCB inspector said, would be certified and accredited locally, because the lab will do independent tests that would be able to withstand scrutiny anywhere in the world.
In the past, farmers complained about not being able to export their produce, because there was no way of measuring the standards locally.
Jairam (only name given), a farmer from Region Five, said the lab is a big step for Guyana, particularly farmers, because they would be able to know the quality and standard of their produce.
Amichand also believes that the lab would help to improve trade relations, because the tests would reveal if the residue is accepted or unregulated.
He reiterated that the facility should be fully operational by mid-year once the lab is furnished with the right tools and equipment.
Late last year, the Guyana Chronicle reported that Guyana is in a strong position to develop sound and credible systems of food safety management for processed, semi-processed and raw foods produced for local consumption, as well as for external markets.
This was so because the country received the Codex Procedural Manual and Codex Strategic Plan. The development of the Codex Procedural Manual and Codex Strategic Plan was made possible through collaboration between the Government of Chile and the local office of the Inter-American Institute for Cooperation on Agriculture (IICA).
Co-chairperson of the National Codex Committee, Dr Maxine Parris-Aaron, had said the procedural manual and the strategic plan will help all stakeholders to achieve consensus in harmonising local food production standards with those required for international trade.