Falling in love with Guyana again after 20 years
MAYBE it was a coincidence that she was here in Guyana on the same day, January 10, when she migrated to France 20 years ago, but fate would have it that she returned to her homeland in the company of 19 other family members for an eight-day vacation for Christmas.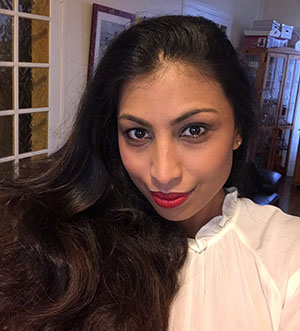 The trip was a gift from her father-in-law after her three children made a request of seeing Guyana, a place they have been hearing about all their life but never saw.
Their wish came through on Christmas Day and after one year of planning the 20-member family came to Guyana to experience their beautiful country where they went to several places in the interior.
THE TRIP OF A LIFETIME
Christine Sureau-Critchlow is the daughter of the late trade unionist Stanton Critchlow. Christine's husband, Christophe Sureau, a native of France, is also no stranger to Guyana and is the Managing Director of the Heart of Palm business here which he established 20 years ago.
Christine said that 15 of the 20 family members that came to Guyana did so for the very first time and they were all in awe of the rich flora, fauna, scenery and wildlife of this country.
She describes their experience as "incredible" especially their visit to the Iwokrama Eco Lodge, a place she never got the opportunity to visit when she used to reside here.
"The experience for me was awesome even though I am Guyanese I am on a mission to promote Guyana in France and have been doing so at trade shows where our local products are highlighted," Christine said.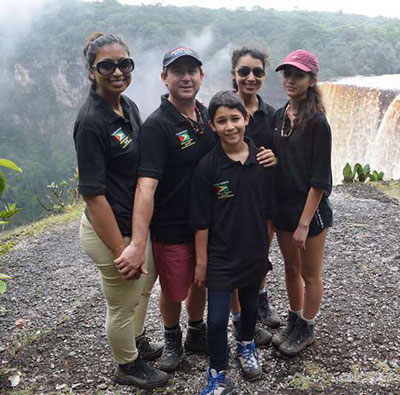 She related that she did not believe we had jaguars here until she saw one in real life and they had the opportunity to take a few photos as well, and for her, it was "picture perfect" because growing up, she heard stories but now knows that they are for real.
Christine, a mother of three, told the Pepperpot Magazine that they also climbed Turtle Mountain as a family and it was very nice and she cannot describe how happy she is that her family was a part of the trip.
She stated that two years ago they had a family trip to Africa and it was lovely but the visit here would surely stay with her, and her heart is in Guyana because she has a genuine love for her country of birth.
Christine added that the trip had a big impact on her family so much so that her daughter who is studying Environmental Engineering wishes to return to Guyana for work on completion of her studies as she believes that she has found her true calling here.
All 20 family members have returned to France to raise funds to have some of our Indigenous people journey to that country in 2020 for the Eco-Tourism Convention to be held in France.
She noted her folks were quite taken with our culture and people and would like to return to Guyana sometime since it was as if they did not get enough.
Christine said her family was pleased with the Guyanese hospitality and the generosity of our people and noted that the country possesses so many positives that need to be known since we do not promote our country to the fullest.
She pointed out that her father did his part for Guyana and she also wants to do her part in promoting the country's eco-tourism.
Christine told the Pepperpot Magazine that the trip isn't enough for her and by this weekend she will journey back to France but cannot stop talking about the trip.
EXPORT
Christine said she is trying to source large-scale supplies of our local pineapples, ginger, coffee, lime, coconut and cocoa for export to France noting that we have the best fruits and rums in the world.
She would like to see more of our local products on the market in France and efforts are being made to source about 10,000 pineapples for export daily from our local farmers as such, she is seeking the assistance of the government in this regard.
Christine and her husband, Christophe would attend various trade shows promoting Guyana and its products at their own expense and is pleading with families living abroad to return home to experience Guyana.
"We often do not hear the good things about Guyana since the few bad overshadows the good but we should desist from bad-talking our country and come back to see for themselves what Guyana has to offer," Christine said.
Christine said she is also hoping to utilise local fruits such as guava, to make tarts and jams and coming from Guyana she is fully aware of the things we can make with the various fruits we have here locally.
FAMILY
She said that her eldest daughter is 20, the second daughter is 15, her son is 14 and they are in love with Guyanese culture. In France they cook and eat local Guyanese foods and she sometimes still eats her food with her hands and is in the habit of sharing food like Guyanese do here.
Christine's husband is mostly in Guyana manning his heart of palm business and would often spend 10 days to two weeks when he goes to Drum Hill, Pomeroon and Berbice where the factories are located.
She pointed out that heart of palm is in high demand in France as are other Guyanese products and they need the assistance of the government to make it happen.
The group which arrived in Guyana on Christmas Day, left on January 3, 2018 armed with many photos and memories that will last a lifetime.