GOOD prices for rice and favourable weather conditions have encouraged persons to take up farming in Black Bush Polder, Region Six.
The popular farming community might be reaching its limit in terms of farmlands, since farmers have even started to plant their crops on both sides of the road.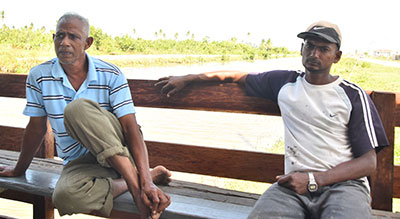 There was an abundance of greenery and vegetation on Thursday when the Guyana Chronicle visited the area.
"Things been well in the area for a while man… we planting we stuff and so and good price for we rice encouraging we to plant," a farmer Ramgobin (only name) told this publication.
He was in the company of fellow farmers who were pleased with the way things were going in the community.
The farmers said over the past two years, some 20 persons have become new farmers.
"We get good weather and so man, since the pump station open by the road head too we don't really get flood and so, so people want do the work now," said Ramgobin.
Although some persons plant cash crops, the main focus is on rice, which has been on the rise over the past year.
The farmers indicated that for the past year there have been favourable weather conditions and due to this, they were able to get the best out of their crop.
Some of them even want to expand their cultivation, but there is no vacant land to do so.
Ramgobin said persons had stopped planting rice for a while, but with new developments in the industry, they were encouraged to plant again and even more this time.
The Department of Public Information (DPI) had reported Minister of Agriculture Noel Holder as saying: "We are now on a pretty good path of development for rice, because we have secured new markets for rice and we need to get expansion in our rice cultivation area [to satisfy the demands of those markets]."
"Between the millers and the rice board and the government, we haven't done badly at all because now we supply rice to 34 countries and indeed over the last two and a half years we have secured, I think, five new markets," the minister said.
While recognising the need for the government's investment in drainage and irrigation structures and equipment in rice-producing areas, Minister Holder pointed out the importance of cost recovery and encouraged farmers to expand their production to compensate for increased investments by government.
"With climate change, we have seen that our drainage hours have been reduced. This means that we have had to increase our pumping capacity… right now we are bringing in 14 new pumps from India to augment the whole supply system. What this basically means is that increasing your drainage capacity is costing you more money, but not giving you more income so to pay for this," he said.
Guyana Rice Development Board (GRDB) General Manager Nizam Hassan said rice and rice products exports out of Guyana are at an all-time high. Close to 540, 000 tonnes of rice was exported for 2017.
The previous all-time high, he said, was in 2015 when 535,000 plus tonnes was exported. Last year, because of El Nino, exports dipped to around 500, 000 tonnes. For 2017, exports were close to 540,000 tonnes, valued at US$201M.
Despite the prices, famers from Black Bush Polder said millers have not been paying the full price, but things are expected to get better in the near future.