The cat who loves long walks on a leash
A MAN walking his dog twice a day isn't considered unusual, but a man walking his cat on a leash will certainly draw a lot of attention and this is exactly what is happening in Bel Air Village, Georgetown.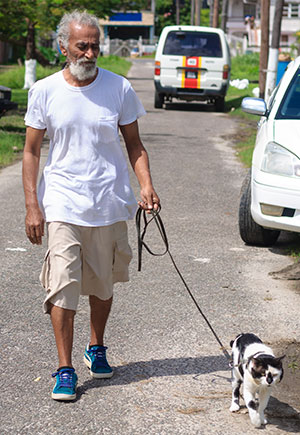 Mark Sukhlall, called "Marcus", was not always a cat person, but today, he spends a lot of time being bossed around by his two feline pets.
It all started when Marcus' daughter brought home a female cat to keep rats in the household at bay. After taking care of the pest problem, the cat became a member of the household. After their beloved pet died, Marcus and the family had her two kittens to take care of.
At first, Marcus was not as involved, but as the animals grew he realised they were no ordinary pets, and he soon bonded and became quite attached to them.
Of the two animals, however, it is the humongous tomcat, named 'Climb Up' who is the boss of 63-year-old Marcus. 'Climb Up' is wise beyond his years and even thinks he is a dog, in that he joins his owner Marcus for daily walks at 05:00hrs each morning and then again at around 16:00hrs around the village.
During these walks, 'Climb Up' is tethered to a leash just like a dog, and the reason for this, according to Marcus, is that 'Climb Up' is not very fond of dogs and is always up for a fight, so he has to be restrained. "One time he encountered three dogs who he literally slapped to the ground and it was the first time I saw a cat swim during that fight with the dogs," Marcus said. Nevertheless, Marcus said that the feline is a lover of women and children.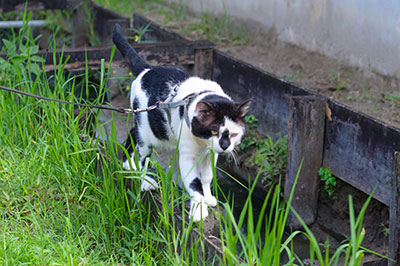 On any given day, the school children can pat him on the head and he responds gently to their affection by his approving purrs and 'meows'.
This friendly neighbourhood cat has many friends and Marcus said that sometimes, even tourists would visit him. It is such an unusual sight, at least in Guyana, that, if you did not see it for yourself, it is hard to believe.
It was while he was still a kitten that Marcus realised that 'Climb Up' was no ordinary cat because he started to respond to him in an almost human way, and would do as he was told.
Climb Up's sister is Frisky and she is more of a house cat and isn't interested in walks like her sibling but spends her time sleeping and otherwise up to mischief.
She, too, is a very big cat like her brother but prefers to stay indoors and indulge in her meals.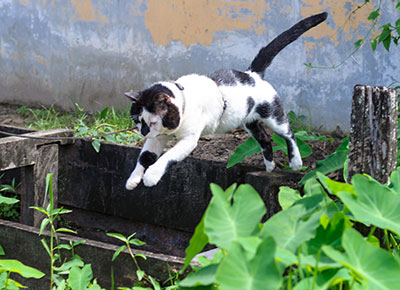 For Marcus, the cats are more than just his pets; they are his companions and he doesn't mind spending his money on them.
"I see the walks with my pet as a form of exercise for me. But there was a time I used to walk the cat now he walking me. He leads me to wherever he wants to go and I just follow," Marcus said.
It has been six years since he began taking care of the cats and he doesn't mind at all since they take up his spare time when he is not teaching at the Burrowes School of Arts where he is the Leather Craft Instructor/Lecturer.