DOCTORS in Texas, USA, are tasked with giving 20-month-old Ranveer Oselmo a second chance at life after he was severely burnt after going close to a kerosene stove last Sunday.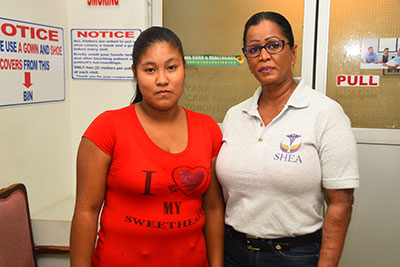 The toddler was admitted to the Georgetown Public Hospital Corporation (GPHC) but could not receive further treatment, doctors there say.
Local doctors reached out to the Saving Hands Emergency Aid (SHEA) Foundation with the message about little Ranveer who was in desperate need of a medevac to a country where he can be properly treated.
The toddler's mother, Chevon Oselmo, said tragedy struck at their Aruka River, North West, Region One (Barima-Waini) home last Sunday, when the toddler, who reportedly had kerosene on his shirt, went close to a lighted kero stove.
The fire caught on his clothes and by the time his guardians noticed, it had spread quickly but they managed to extinguish it, but the damage was already done.
Young Ranveer was severely burnt and his mother rushed him to the community health centre. He was subsequently transferred to the GPHC.
SHEA Foundation representative Sita Sugrim told the Guyana Chronicle that after it received word that nothing more can be done at the GPHC, members intervened and made preparations to have the child evacuated on Thursday.
When the Guyana Chronicle arrived at the hospital, the evacuation team from Texas was conducting an evaluation of the child to see how soon he can be shifted.
It was later confirmed that the child was safely flown out of the country on an Air One Air Ambulance to Texas, where he is receiving further medical attention.
"We will be keeping track of how it goes… Ranveer's mom was also sent with the team so we will be kept posted on how the treatment is going," said Sugrim, who pointed out that they are still encouraging the public to donate to their cause because the evacuation exercise alone cost US$48,000.
The Foundation's representative told this publication that the hospital fees are yet to be calculated, but the group is committed to sending persons to the best hospitals. The toddler was reportedly sent to one of the best burn care hospitals in the U.S.
Ranveer's mother expressed gratitude to the Foundation for helping her son to receive treatment abroad.
Persons who are interested in donating to the cause are asked to visit the Foundation's website at Sheacharity.org or find them on Facebook at sheacharity.gy.
SHEA is based and registered in U.S., but has done extensive work in Guyana. This year, they have assisted three persons in getting treatment for burns.
SHEA has secured treatment for Shondell in the U.S., where she is still receiving burn care and vision- correction surgery. The Foundation is still running a campaign to fund the cost of Shondell's expenses.
It has also assisted three-year-old Ranie Rogers with treatment overseas after she sustained severe burns to the head and face when a kerosene stove fell on her.
"We have witnessed the devastation that is caused by lack of basic healthcare and we have seen too many mothers bury their children because the type of medical care needed was/is not available in the country where they live," said Sugrim.
With that said, she went on to say that their aim is to bridge the gap between poverty and access to healthcare.