TRACY PERSAUD is making a difference in the Agricultural Sector
IN a world where there is limited involvement of women in Science, Technology, Engineering and Mathematics (STEM), the National Agricultural Research and Extension Institute (NAREI) is proving to be a gender inclusive organisation.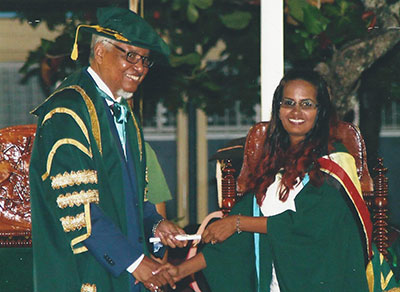 The institute headed by Soil Chemist, Dr. Oudho Homenauth, has a track record of hiring persons based on their strategic fit for each department. This has given female applicants the opportunity to compete fairly with their male counterparts. Additionally, upward mobility in the organisation is premised on competence and advanced qualifications.
Increasingly, more female staffers are enhancing their academic qualifications to become Research Scientists. These female Research Scientists have equal access to resources as they work to advance agricultural development in Guyana. In recognition of their efforts, NAREI will be highlighting these important women in this column in coming weeks.
This week NAREI introduces Tracy Persaud, a Research Scientist. Tracy joined the institute in 2007 when it was named National Agricultural Research Institute. She began her career at NAREI as a Research Assistant. However, after completing a Masters in Environmental Management in 2015, Tracy was promoted as a Research Scientist. She is now an important member of the Soil Management and Farm Mechanisation Department.
Tracy's involvement in the other crops sector is no accident. In fact, it appears that she was born to be part of this sector that is on the cusp of greatness.
"At an early age, I recognised the value of agriculture as a source of food to supplement income. Growing up in Agriculture Road all my neighbours had kitchen gardens and we were no different…I saw the usefulness of its contributions in the kitchen…In addition, my father now retired, was a long-serving member of the Faculty of Agriculture at the University of Guyana and alum of Guyana School of Agriculture, an institution oblique to my residence," Tracy said.
Tracy's second encounter with agriculture occurred at the North Georgetown Secondary School, where she wrote Agriculture Science at CSEC. And, as destiny would have had it- Tracy followed in father's footsteps. She pursued a Diploma in Agriculture at Guyana School (GSA) of Agriculture. Having successfully completed her tenure at GSA, Tracy went on to attend the University of Guyana.
"Having graduated with a BSc in Agriculture, I gained employment at NARI which later became NAREI. Here is where I gained real exposure to the research aspect, working under the stewardship of my immediate supervisor, Mr. David Fredericks, who influenced my pursuit to read for a Master in Environmental Management, majoring in Climate Change and Disaster Risk Management," Tracy related.
Studying and working fulltime was a challenge Tracy embraced. Fortunately, she was surrounded by professional colleagues, who valued her efforts in advancing her academic qualifications.
"I was fortunate to work under the supervision of Mr. David Fredericks who facilitated the maintenance of balance between my studies and work, and Dr. Oudho Homenauth, the CEO of NAREI, who understood the relevance of my studies to NAREI's mandate and provided academic guidance," Tracy emphasised.
According to Tracy, of all the areas she could have specialised in she chose Environmental Management because it helps to promote behaviours that make a positive impact on the planet, while enforcing regulations and developing solutions to potential environmental issues in Guyana or worldwide.
Tracy noted that "The Master's Degree programme in Environmental Management taught me the importance of environmental management concepts such as climate change, climate change adaptation and mitigation, community disaster risk management, environmental law and environmental impact assessment among others. Studying Environmental Management provided me the capability of creating a harmonious equilibrium between the economic and social needs of man as well as the needs of the environment."
Her area of specialisation allows her to contribute to national development. "Working in the Soils Department I was nurtured with the responsibility for chemical analyses, rehabilitation of degraded soils, and aspects of crop diversification. My area of specialisation of environmental management with specific emphasis on crop management allows me to implement appropriate and sustainable agricultural practices in farming systems," she added.
At NAREI, Tracy prepares and implements research projects on rehabilitation of degraded soils, crop diversification; supervises the work of Research Assistants within the department; and supervises the work in the soil chemistry laboratory- where soil samples provided by farmers are tested.
Tracy has worked on several noteworthy projects in the area of crop production using smart agricultural practices. This involved understanding the agronomy and management of crops such as Irish potatoes, onions, carrots, chickpeas and sorrel. Other projects under Environmental Management include the rehabilitation of mine spoils and degraded land to improve soil quality and enhance land cover.