Sunshine upstage Dant, Wakenaam whip GTA B
By Frederick Halley
TORONTO, Canada — Sunshine made hay while the sun shone in all its brilliance last Saturday, inflicting a resounding nine-wicket victory over defending champions Dant when the Norman Sue Bakery (NSB)-sponsored 15-over softball tournament, organised by the Ontario Softball Cricket League (OSCL), climaxed at the Ashtonbee ground, Scarborough here.
While Sunshine were basking in glory on pitch number one in Conference A, Wakenaam were making light work of opponents GTA Storm B in a disappointing Conference B final, triumphing by seven wickets in a lopsided victory on pitch number two.
The Conference A consolation final saw EC Bannas thrash Rebels by 21 runs while Ramblers carted off their second consolation title of the season, whipping Good Success by 36 runs.
Chasing a modest 108 for victory, after limiting Dant to 107 for seven in their allotted 15 overs, Sunshine raced to 113 for one in a mere 11 overs, winning with four overs to spare.
The victory was engineered by a fine unbeaten second-wicket stand of 71 between Azam Haniff (36 not out) and Anil Ramoutar (23 not out). The two came together with the score on 42, following the dismissal of Avinash Sookdeo (18).
Haniff's knock included three fours and a six while Ramoutar struck two fours and a six, following the Sookdeo's brisk innings which saw him lash two sixes.
Earlier, Dant's Hemnarine Chattergoon continued his brilliant season with a top score of 37 (one four and a six) before becoming the first of four run-out victims while Damodar Daesrath supported with 31 which included three fours and a six. There was one wicket each for Mahendranauth 'Bobby' Parasnauth, Sookdeo and Devanand Ramsawak.
Haniff and Chattergoon were the respective Most Valuable Players (MVP) for Sunshine and Dant.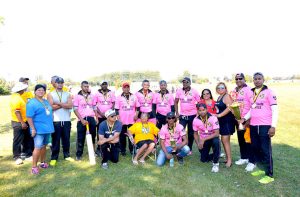 Over at number two, it took Wakenaam just nine overs to achieve a paltry 61 set by GTA Storm B, losing three wickets in the process, with MVP Sharaz Hamid slamming an unbeaten 35. GTA Storm MVP Khemraj Dhanpaul took all three wickets that fell for 25 runs.
Dhanpaul (22) was also the only player to reach double figures as GTA Storm stuttered to 60 all out in their 15 overs, Hamid getting fine support from his captain Ravin Babulall (two for four) and Ryan Beepat (two for 10),
In the A Conference consolation match-up, EC Bannas took first strike and reached 109 all out in 13.4 overs with Eon Katchay leading the way with 32 (four sixes) while extras contributed a healthy 28 (16 wides). MVP Troy Gobin captured three for 12, Imtiaz Moursalien (three for 28) and Lalchan Shivraj (two for 20).
Rebels could muster only 88 all out in 14.3 overs with Zaheer Haniff hitting two sixes and a four in 24. Skipper Trevon Garraway three for 19, MVP Andy Persaud and Amit Pooran (two for nine) were among the wickets.
Led by a swashbuckling undefeated 49 from veteran Hardat Chablall which included seven sixes, Rebels reached 105 for three in their allotted 15 overs. Chablall and Ron Etwaroo (17 not out) shared an enterprising undefeated 66-run fourth-wicket partnership in seven overs.
Good Success were shut out for 69 in 14 overs with MVP Moin Khan (17) being the main scorer. Skipper Avi Deokarran (four for 18, Etwaroo (three for 18) and Patrick Shivrattan (two for 11) were the main destroyers.
At the presentation ceremony, OSCL president Albert Ramcharran expressed sincere thanks to the Sue family for their continued sponsorship of the tournament while sisters Natasha and Kim gave the assurance that the sponsorship will continue.
A minute's silence was observed in memory of the late Norman Sue who passed away almost four years ago. Apart from the winning and runner-up trophies, all the participating players and officials were recipients of medals.