…Min. Gaskin tells Canadian Trade Mission delegation
By Alexis Rodney
MINISTER of Business, Dominic Gaskin, said on Tuesday that Guyana is prepared for the transformation the oil and gas sector will bring, particularly the long-term benefits it will afford the economy and its citizens.
The transformation will be effective however, only if the new, emerging sector is properly regulated and monitored. The minister made the comments while addressing stakeholders and a delegation of over 20 companies currently in Guyana to lend assistance to local businesses and by extension the major players in the oil and gas industry.
The event held at the Marriott International Hotel was a collaboration between the High Commissioner of Canada, the Newfoundland and Labrador Oil and gas industry Association (NOIA), Atlantic Canada Opportunities Agency (ACOA) and the Guyana Office for Investment (GO-INVEST).
According to Minister Gaskin, Guyana is still new to oil and gas and is currently on a steep learning curve playing "catch up" with the industry. He said the discovery of oil has brought a lot of excitement to the country. "There's also a high level of interest outside of Guyana and people are visiting Guyana with a lot more frequency than before to get a feel for the types of business opportunities that exist," he said.
Much of the discussions here the minister noted, centres on local content and whether it should be regulated, legislated, signed into contracts or just be left to oil companies to use their best judgement. "The're a lot of experts advising on this. Some are advising the government officially, some are just giving free advice to the government and to anyone else who will listen," Gaskin said.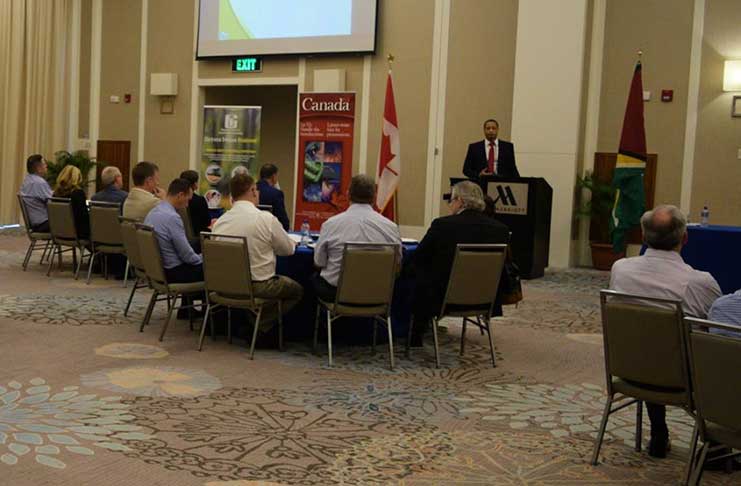 He said while there is no shortage of opinions on what government needs to do to ensure that the Guyanese people become the beneficiaries of the sector, the administration understands that this is a huge long-term private sector investment and that the investors are planning to extract some 450M barrels of oil.
"We understand the implications of this. We understand what can happen if things go wrong and there [is] an accidental spill. We understand that we're dealing with a big and very sophisticated investor that has way more resources than we do. We also understand that any investor needs to get a certain return on their investment, otherwise they're not going on make the decision to invest," he said.
According to the minister, government is satisfied with the progress that the Liza-1 project is making, noting that it wants to see that progress continue with fulfilment of the promised oil production by 2020.
Speaking at the event also was NOIA's Treasurer Canadian Michael Critch, who said that his company is well aware of the potential of what he said is Guyana's emerging world-class, deep-water petroleum industry.
According to him, it was only a couple decades ago that his country had the very same opportunity but was blinded to what needed to be done in the industry. He said his country has learnt over those years and is now able to foster, benefit and be the owners of the industry. His country now partners with foreign industries to see successes.
"We hope that we could offer some insight and knowledge with Guyana and the businesses here. Hopefully, the business opportunities will align with those back in my country," Critch said.
He said the delegation of 20 companies is hoping to learn more about the opportunities in Guyana and in turn the Guyanese industry could also learn from them. "A win-win" experience it will be," he said.
He said the Newfoundland Company has over 15 years of servicing Floating Storage and Offloading (FSO's) and four years servicing rigs and drill ships.
Canadian High Commissioner to Guyana, Lilian Chatterjee, said the bilateral commercial relationship between Guyana and Canada has been growing. Over the past two years, she explained that merchandise trade between the two countries has reached $700,000,000; positioning Guyana as Canada's largest trading market within CARICOM and the third largest in the Caribbean, Canada is now Guyana's top destination for exports relating to gold, she revealed.
She said with this, it shows that Canada is not solely interested in the investment of Canadian companies in Guyana in the extractive industry, but overall investment with "lots of opportunities." According to the High Commissioner, Canada's extractive industry has a worldwide reputation for innovation for developing increasingly challenged resource reserves, to realise economic gains and at the same time obtaining human rights and environmental principles.