By Frederick Halley
THE University of Guyana is working on the establishment on a School of Energy and Mines aimed at bringing benefits not just to the oil-and-gas sector, but also the existing gold-mining sector, the ailing bauxite industry and other mineral-related sectors.
Responding to a question posed at last Friday's stakeholder engagement session with the University of Guyana alumni and the Guyanese diaspora at the Centennial College Event Centre, Scarborough, Toronto, Canada, Dr Barbara Reynolds, Deputy Vice-Chancellor, Planning and International Engagement, pointed out that "one of the things we need to figure out is how to export our mineral wealth in a more comprehensive manner, even as we figure out how to deal with the likely increase and demand for ancillary services in the oil-and-gas sector, recognising that it has a trajectory and staying ahead of that curve in terms of the kinds of specialised engineering that we want to develop."
Dr Reynolds, who was accompanied by Registrar Dr Nigel Gravesande, pointed out that the University of Guyana is also working on retooling its geological engineering programme to offer an undergraduate degree in mining engineering and is looking for expertise in and out of Guyana in this area.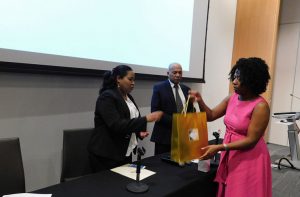 Plans are also afoot to establish a Business Development Unit to go after contracts and grants and to also bring business to the campus, working in conjunction with the public and private sectors. Explaining that the university recently started merchandising on a small scale, Dr Reynolds said this will be further expanded, so visitors will have the opportunity to purchase items as gifts when on vacation or other business in Guyana.
Dr Reynolds described the alumni engagement as "a good move," but emphasised that partnerships need to be reciprocal. "We are not just going to beg. As a point of pride, we must have something to offer the other partner and one of the things we will do is to host students who come on exchange programmes.
According to Dr Reynolds, the University of Guyana still has some archaic decision-making processes, one of them being that there must be two council members present for interviews and appointments, "so you could imagine what that means in getting people on board."
The deputy vice-chancellor also opined that Guyanese do not see university education as an investment, "so almost everyone wants to pay their tuition fees by cash, no one wants to take a loan, but it's unsustainable.
"It has become such a culture that we don't even have a bookstore that sells text books, so that has to change and in order to change that we have to use e-books, we have to be able to buy books. We have to have the capacity to negotiate, we have to have the capacity to plan ahead, but we also have to change the culture where a student will be willing to borrow to finance his or her education and be able to pay back. That does not currently exist."
Dr Reynolds lamented the fact that the University of Guyana does not have an Information Technology (IT) Infrastructure that includes safety and security issues, pointing out that "we have several overburdened and outdated systems – electrical, sewage, water and drainage. These are fundamental things, but they cost money."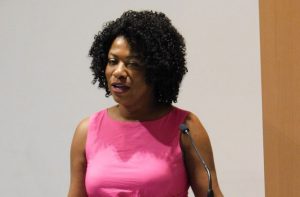 On a positive note, the deputy vice-chancellor disclosed that discussions are ongoing with government to acquire a loan through the Caribbean Development Bank (CDB) for the construction of a new library, while the government has already provided a loan to build a new health sciences facility. "We are also in discussion with Movie Towne out of Trinidad and Tobago to develop a solar farm in order to supplement our energy."
Dr Reynolds boasted that the university recently launched the School of Entrepreneurship and Business Innovation and also hosted a conference of the Guyanese diaspora, which is critical "since we want to engage with the diaspora."
"We don't necessarily want to say to people that you must come home. I am a proud 'comebackie' after spending 30 years outside of Guyana. It's not necessary that everyone can come home, but we definitely need to engage with people of Guyanese origin or their off-spring who are doing wonderful things in North America and elsewhere to engage and share some of those resources with the University of Guyana.
Dr Reynolds also pointed to start commencement of a series on Law and Society and "for the first time in many years, we were able to fill the Walter Rodney Chair."
Touching on the needs of the university, the vice-chancellor said, it needs people who will help in building the pension fund which is a mere $20 000 per month, upped from $3 000 by Vice- Chancellor Professor Ivelaw Griffith, people who are willing to invest [in] food services, people in IT, even those who are willing to come and do short courses. The evening's programme was coordinated by the Guyana Consulate in Toronto with Consular General (acting) Candida Daniels giving the welcoming remarks, while the chairperson was Tameshwar Lilmohan.