THE Narcotics Police made another major drug bust on Monday when cocaine valued at just over $100 million was found among a shipment of rice at the Kingston Container Terminal (KCT).
According to law-enforcement sources, the rice was destined for a local distributor, whom detectives were trying to locate up to late Monday. It is the third major drug seizure by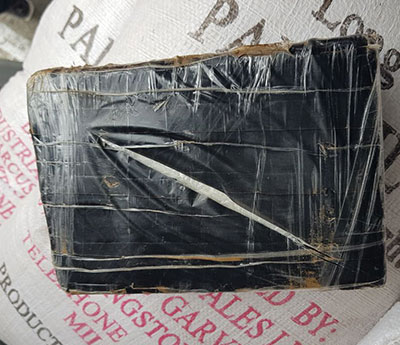 detectives from the Narcotics Division in the past six weeks.
In July, 77 kilogrammes of cocaine, valued at $92.8 million, was allegedly seized in a house in Portmore, St Catherine. Earlier this month, the Narcotics Police, with assistance from the military, seized just over 1,700 pounds of ganja, valued at $68 million, during a 10-hour operation in St Mary.
In the latest incident, law-enforcement sources said the police, accompanied by members of the Customs Contraband Enforcement Team, conducted a snap operation at KCT and immediately trained their focus on cargo from specific containers. "Examination of a 40-foot container revealed a total of five leather bags hidden among the shipment," one source revealed.
According to the source, the bags had a total of 78 parcels, each containing a white powdery substance resembling cocaine. Sources say initial investigation has indicated that the container travelled from Guyana, through Santo Domingo and The Dominican Republic before arriving in Jamaica.
(Jamaica Gleaner)