SHELTON George called "Boories," who was awaiting trial for the 2014 alleged murder of Debra Blackman at Delicious Chinese Restaurant was found dead in the holding area at Lusignan Prison, East Coast Demerara, early Tuesday morning.
Director of Prisons, Gladwin Samuels, confirmed that George was found at about 06:00hrs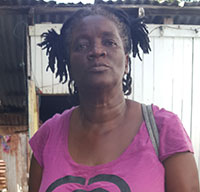 in an unresponsive state and was rushed to the Georgetown Public Hospital, where doctors examined him and pronounced him dead.
Samuels said that he is unaware George had received any injuries which could have contributed to his death but a probe is underway.
Meanwhile, at George's residence at Lot 146 South Better Hope, also on the East Coast Demerara, where he used to reside with his mother and siblings prior to his arrest earlier this year, there was a sombre atmosphere as relatives tried to process the news of his death in prison.
According to Rosaline Munroe, mother of the dead prisoner, she received a telephone call from a private number stating her son was taken to the hospital. The woman added that when she reached the health facility she was told he had succumbed. The mother of four said that she was told that George was crying out for intense pains in his chest and he had a headache as well.
Munroe related that she was also informed that her son was panting for breath before he breathed his last, after which he was rushed to the hospital. She was told that by the time he reached the hospital he had no pulse or heartbeat when he was examined by medical professionals.
The woman stated that she last saw her son on Monday when he showed up for his court case at the Georgetown Magistrates' Court, where he seemed to be well and did not complain to her about feeling ill. Munroe said that she also spoke to George at about 19:50hrs via cell phone from Lusignan Prison and he did not say he was not feeling well.
She told this newspaper that George was first imprisoned in September 2015, where he served some time before he was placed on bail and the attempted murder case was dismissed in June 2015. Munroe noted that in February this year he was picked up at her home by the police and told that he was wanted for questioning for murder.
The woman reported that she went to Suriname and brought her son home after he was shot and his spine damaged and could no longer walk. A post mortem examination is expected to be performed on his body on Friday to ascertain the cause of death. Munroe said that the family has their suspicions but they will wait on the autopsy.
In November, 2014, police had released surveillance footage of a suspect who killed Blackman, who was a waitress at Delicious Chinese Restaurant on D'urban Street, Georgetown.
The footage showed a young man, dressed in a grey t-shirt, dark coloured pants and a red cap, entering the restaurant and standing by the counter. He was the shooter. He was also accompanied by two others. The shooter remained standing at the counter and was recorded gazing around the restaurant. His face remained visible throughout the recording.
The man then left the restaurant and mounted a motor cycle which sped off.
On the second matter, George was accused of attempting to murder former magistrate, Mohamed Faizal Azeez, who is still bed-ridden. Azeez, of Kitty, was held in 2015 at gun point for cash in Eccles, East Bank Demerara.