THE merciless Pouderoyen team oblitherated the Wales United 6-2 as the NAMILCO U-17 football tournament organised by the West Demerara Football Association (WDFA) continued.
Keanu Lawrence was the chief destroyer, scoring in the 6th, 22nd, 24th, 30th and 90th for his side, while Devin Gaskin slotted home in the 80th.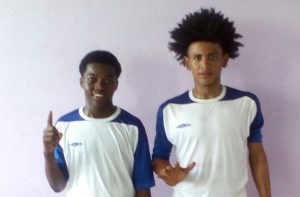 Wales United, however, was not about to let the game go scoreless on their part as Andrew Sookram and Telbert Baptiste scored in the 42nd and 50th.
Meanwhile, Eagles FC beat Den Amstel 4-2, with a double from FC Eagles scorers Ronaldo Macey, who scored a double (4th and 75th) while Glanray Duncan (32nd) and Adrain Adelph (60th) making good their claims.
Den Amstel on the other hand had Anthony Benn(59th) and Ruben Dainty(68) scoring.
In the other scheduled game, both Jetty Gunners and Uitvlugt failed to show up with neither team earning any points.
There was also a walk-over for the Golden Warriors team after the Crane Rovers failed to show up for the game.