COMMISSIONER tasked with the inquiry into the alleged plot to assassinate President David Granger, Paul Slowe, is yet to make a decision on whether Minister of Public Security, Khemraj Ramjattan, will be asked to testify before the Commission.
Christopher Ram, the lawyer representing businessman, Imran Khan, last week requested that Ramjattan take the stand. Ram in his petition said the public security minister was part of a dual interview with Police Commissioner, Seelall Persaud, conducted shortly after the investigation became public.
On Friday, Ram asked whether an invitation has yet been extended to Ramjattan but Slowe made it clear that he has to reviewed a video recording of the interview done with both Ramjattan and Persaud and will also examine in great detail the Terms of Reference (ToRs) governing the conduct of the Commission of Inquiry (CoI).
"It is to be reviewed to see what benefit his appearance here might give to the Commission," said Slowe, a retired Assistant Police Commissioner.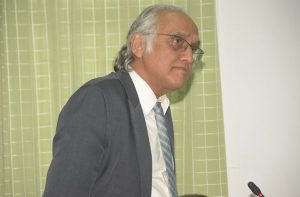 Ram pointed to the interview as one of his reasons for requesting the minister, but noted that the ToRs refer to the overall administration of the Police Force.
"I think his contribution to this CoI is extremely valuable, not only in relation to what may have happened but to how the Commission makes its recommendations as we move forward," said Ram.
The attorney said too that the Commission would want at all costs to avoid the suggestion that persons are being "protected, shielded from what is a very public interest issue and that must involve politicians, police, lawyers, and accountants even…"
He further contended that his reasons are "very compelling" and should be heeded, while noting that the work of the Commission could be seriously compromised if it is selective in having persons appear before it.
Slowe in response accepted the arguments proffered by Ram, but noted that he will be guided by the ToRs, making specific mention of ToR 8, which speaks to systemic issues which affect the Force's competence to investigate matters of a similar nature.
"I will be guided by these… a decision has not yet been made… I will look at the benefits…" assured Slowe.
He noted too that some persons have testified before the Commission in camera, while others were publicly interviewed. Slowe believes that it is the right of the Commission to make a decision based on merit on who to interview in public or in camera.
"All the persons who have come… have not been brought to bring testimony in the witness stand for some obvious reasons… I have interviewed and have statements from persons…" said Slowe, who noted that persons will continue to be interviewed and decisions made as to who will appear in the witness box.
"You'll be advised as to how the Commission intends to proceed," declared Slowe.