1: THE Democratic Republic of the Congo is the second largest country in Africa. It borders nine countries: Angola, Burundi, the Central African Republic, the Republic of Congo, Rwanda, South Sudan, Tanzania, Uganda, and Zambia.
2: The people of the DRC represent over 200 ethnic groups, with nearly 250 languages and dialects spoken throughout the country. Kinshasa, the capital, is the second largest French-speaking city in the world.
3: Since the 1960s, the Congolese have endured over two decades of armed conflict with over 5.4 million people dead due to war-related causes, making it the deadliest conflict since World War II.
4: Congolese armed groups and elements of the army have a long, brutal history of recruiting child soldiers. The United Nations report at least 1,000 cases of child soldier recruitment between January 2012 and August 2013.
5: The oldest national park in Africa is the Congo's Virunga National Park. It is home to rare mountain gorillas, lions, and elephants. The park is currently under threat by the UK oil company, Soco, which has begun oil exploration there.
6: In the DRC, only 1.8% of existing roads are tarred, and less than 10% of the population has access to electricity today. Recently, there have been pushes to improve, including the announcement of a $1B package from the World Bank for infrastructure.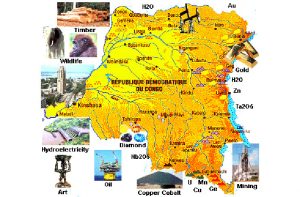 7: The Democratic Republic of the Congo hosts the United Nations' largest peacekeeping mission in the world, with over 21,000 soldiers from approximately 50 different countries.
8: Due mainly to the ongoing instability in the eastern part of the country, about 450,000 refugees from the DRC remain in neighbouring countries, particularly Burundi, Rwanda, Tanzania, and Uganda.
9: The DRC is among the most resource-rich countries on the planet, with an abundance of gold, tantalum, tungsten, and tin, all minerals used in electronics such as cell phones and laptops. Yet it continues to have an extremely poor population.
10: Tin, tungsten, tantalum, and gold have been dubbed "conflict minerals". Armed groups use the profits from sales for campaigns of violence. Some companies are becoming more accountable by tracing their supply chains.
11: Former NBA All-Star, Dikembe Mutombo was born in the Democratic Republic of the Congo. In 1997, he founded a humanitarian foundation to improve the health, education and quality of life for the people in the DRC. (DoSomething.org)
OFFICIAL NAME: Democratic Republic of the Congo
CAPITAL: Kinshasa
* POPULATION: 69.6 million
* AREA: 2.34 million sq km (905,354 sq miles)
* MAJOR LANGUAGES: French, Lingala, Kiswahili, Kikongo, Tshiluba
* MAJOR RELIGIONS: Christianity, Islam
* LIFE EXPECTANCY: 47 years (men), 51 years (women)
* CURRENCY: Congolese franc
PRESIDENT: Joseph Kabila
Joseph Kabila became president when his father, Laurent, was assassinated in 2001. He was elected in 2006, and secured another term in controversial elections in 2011.
His second and final term officially ended in December 2016, but elections failed to be held.
Pro-government and opposition groups agreed to a deal brokered by the influential Roman Catholic Church that sought to avert a full-fledged crisis.
Under the deal, Kabila would remain in office until elections in late 2017, ruling in tandem with a transitional watchdog and a new premier chosen from within the ranks of the opposition.
MEDIA: The Congolese media operate against a backdrop of political power struggles and violent unrest.
Reporters Without Borders says media workers face arrest, threats and violence. Reporters exposing corruption are at particular risk.
The press is able to criticise government bodies, and some publications serve as mouthpieces for opposition parties.
The DR Congo has around 175 newspapers and magazines, 300 radio stations, and 50 TV stations.
Radio France Internationale (RFI), which is widely available on FM, is the most popular news station, according to the US-based Committee to Protect Journalists. The authorities have been known to suspend RFI's local relays over the station's coverage.
TIMELINE
Some key dates in DRCongo's history:
1200s: Rise of Kongo Empire, centred in modern northern Angola and including extreme western Congo and territories round lakes Kisale and Upemba in central Katanga (now Shaba).
16TH-17TH CENTURIES: British, Dutch, Portuguese and French merchants engage in slave trade through Kongo intermediaries.
1870s: Belgian King Leopold II sets up a private venture to colonise Kongo.
1908: Congo Free State placed under Belgian rule following outrage over treatment of Congolese.
1960: Independence, followed by civil war and temporary fragmentation of country.
1965: Mobutu Sese Seko seizes power.
1997: Rebels oust Mobutu. Laurent Kabila becomes president.
1997 – 2003: Civil war, drawing in several neighbouring countries (Africa's first world war).
2003 – 2016: Conflict persists in the east, where there are still dozens of armed groups.
2006: First free elections in four decades. Joseph Kabila wins the run-off vote.
2015: At least 30 killed in protests against proposed changes to electoral law, which the opposition says are designed to allow President Kabila to remain in power in violation of the constitution. (BBC)