A  truly Guyanese business
By Zena Henry
WHEN the Mookram family had placed a tiny snack stand, with a mere six items for sale a short distance away from their 24 Peter's Hall, East Bank Demerara, home more than 30 years ago, they knew exactly what they were doing. Financed by the eldest sons, the parents were the initiators of the small business venture that saw three brothers: Joe, 22,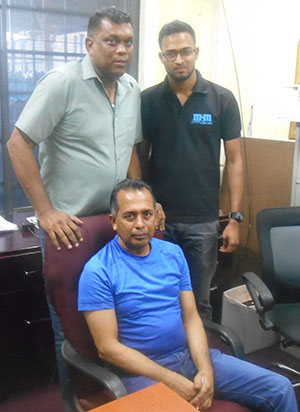 Vick, 21, and Roy, 19, becoming determined to grow a small roadside snack stall known for its egg balls and cane juice, into a thriving business establishment that would be the base for further investment and diversification.
Today, the Mookrams' are the proud owners of M&M Investment Inc., parent company for M&M Snackette and Fast Food, which also serves vegetarian and Halaal foods. M&M Snackette is the morphed version of that egg ball and cane juice stand that has expanded its services into mass production of various food items, catering, its own delivery service and soon to come, fine dining at the company's impressive new three- storey glass styled building at their Track A, Peter's Hall location, just opposite the Demerara Harbour Bridge.
Joe Mookram told the Pepperpot Magazine that it was sometime in 1984 that the family had put out the small five by three glass and wooden stand that was manned mainly by his younger sibling, Roy. Roy was described as being instrumental in the operation, while the other brothers engaged in other activities.
Joe said that the family had to move to at least three locations before the opportunity finally presented itself for them to buy the spot on which they currently operate. The family spent numerous years at their Peter's Hall location before opening other branches at several new locations such as Eccles, Vreed-en-Hoop and Diamond, with all contents coming out of the company's Peter's Hall production centre.
As the family business grew, so did the need for education, specifically in the area of business management and operation, Joe said. He added that the brothers eventually used the benefits from their labour to educate themselves to ensure adequate management qualities. The businessman said that they learned how to be creative so that the snackette could hold its place in the market.
When they could not afford a building, the company used empty shipping containers and transformed them into kitchens, each preparing vegetarian, Halaal and other foods separately. Energy consumption was a big concern for the brothers who understood the need for a cheaper source. They utilised Amish-built wood burning furnaces that provided a better quality of heat, at cut-back costs.
M& M Snackette today
M&M is no longer known just for their cane juice and egg balls, but they prepare a wide variety of creole dishes. At any given time, customers can get freshly made juices, cakes, pastries, puri, fried channa, and many other Guyanese finger foods from an all-day cooking kitchen. Roti and curry, bake and salt fish, boil and fry are just some of the morning delights, while cook up, fried rice, curried chicken and many other delicious local foods are made available for lunch.
Joe  said that M&M Snackette has no intention to move away from traditional Guyanese food because it is the foundation on which the family business was built. If there is any change, the businessman said, he is only interested in making the food produced healthier.
He said the company has switched to coconut oil which is a healthier option for cooking, especially where fast food is concerned. Joe said the company is interested in creating its meals from whole foods that are safer and healthier to eat rather than the many imported and processed items. He said no preservatives of flavour enhancers are added to their pot. "Our food is all natural," Joe said, "we don't add no MSGs (Monosodium glutamate) nothing like that to our food. Muslims have no fear eating from us.
The items we get [are] Halaal." Joe added that since M&M is a provider of traditional Guyanese food, and a representative of the nation's diversity, the snackette does not serve pork or beef at their establishment catering to those religions where these animals have certain representation.
The businessman said otherwise, M&M caters for all the holidays. For Easter, it provides cross buns and other related treats, for Diwali and other Indian holidays there are the sweet meats and other items, while Emancipation would see metem, cook-up and associated dishes being  prepared. Additionally, the company supports local, and buys all their items from local farmers and producers.
The Mookram family is also operating their own farms in the Essequibo region. The company will go into juice production and soon establish a full-fledged bakery. They have huge plans to penetrate the Trinidad market, and the United States in the long run.
In the meantime, the Mookrams' are completing their new building for its official opening. It will house the company's snackette downstairs, the fine dining restaurant above and a banquet hall for special events. "This is an investment for the people coming behind us," the businessman said, pointing to the younger Mookrams.
Already, Vick's 20-year-old son has taken up the challenge to learn the family business, while the 19- year-old teen sisters, one of whom is Vena Mookram who recently won the Miss World Guyana 2017, are still to make a decision. Mookram said that the family would be pleased if the younger ones become interested in the business, but noted the need for them to get exposure and find their own passion. He noted, however, that M&M will retain its Guyanese flavour and continue in its growth.