— promises better compensation for staff, faculty members
THE University of Guyana (UG) will make an effort to improve compensation for faculty and staff members, among several bold moves under its Renaissance initiatives, Vice-Chancellor (VC), Professor Ivelaw Griffith has said.
Professor Griffith made the remark after he was officially installed as the 10th Vice- Chancellor of UG on Friday at the Turkeyen Campus.
The ceremony was attended by a host of guests including President David Granger, Prime Minister Moses Nagamootoo, ministers of government, visiting professors and other local and international guests.
Professor Griffith in his inaugural address told the gathering of UG's Renaissance Bridge Building Project which he noted has several "daunting "elements.
He said they entail "facing and fixing" and pursuing new ventures and setting new baselines, some of which are new to UG and the country.
He said the efforts of the project have begun to show several notable results, including several which are infrastructure-related.
These include improvements to physical facilities and of wifi access at the Turkeyen and Tain campuses, as well as the residency halls.
UG has also commenced infrastructural works on a new Student's Social Complex, extension of the Faculty of Agriculture and Forestry as well as a new maintenance complex.
The university's property at Pere Street, Kitty, will be renovated, and according to Professor Griffith, that building will be transformed into an entrepreneurial facility.
As part of its plans, the university has reorganised its senior leadership to include the creation of Deputy Vice-Chancelleries.
He said UG cannot operate alone and requires the support of both the private and public sectors.
In terms of specific areas which require attention, Professor Griffith highlighted that as a university, "we are in near-crisis mode" in relation to the hard sciences and engineering.
He said the same can be said for instruction, research and the synergistic utility linkages to multi-disciplinary spaces such as biodiversity.
As such, he said he will be establishing a 15-member Renaissance task force to examine comprehensively, the state of affairs of the areas highlighted and for that body to offer recommendations on the way forward.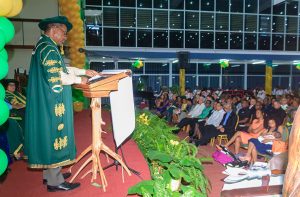 Professor Griffith noted too that a series of initiatives have been undertaken to support the arts and these include the use of his home, Renaissance House, as a gallery to showcase the painting and sculpture of students and lecturers as well as for hosting an inaugural painting, music and poetry session.
He announced that famous Guyanese musician Dave Martins will be named Distinguished Visiting Artiste in Residence.
Professor Griffith also touched on the issue of compensation for staff.
"Important too, will be efforts to improve the compensation to faculty and staff, mindful of the importance of performance and accountability," he noted.
It was noted too that multiple challenges which the law department of the university faces will be addressed. This will be undertaken following a comprehensive review of the department.
Meanwhile, Dr Warren Smith, President of the Caribbean Development Bank (CDB) in bringing greetings to the auspicious occasion, noted that the bank will be "doing business with UG."
Dr Smith said he had the opportunity to meet with Professor Griffith this week for the first time and is confident that UG is in good hands.
He pointed out that while Guyana is on the cusp of development, there are several social deficits which need to be addressed.
There are social indicators "which are not where they need to be", he said, pointing out that UG will play a part in the correction process.
He also said that the CDB has assisted UG in the past and will be working along with UG in the future.
The investiture ceremony was part of the university's Diaspora Engagement Conference. The conference, which attracted more than 200 attendees, concluded on Friday with a cultural extravaganza.