WHEN Fit-Rex fitness trainer, Cynthia Dookie did not get the Miss India Guyana crown back in May of this year, that in no way deterred her passion for pageantry, so, it was on to the next one.
And her persistence did pay off when she grabbed the Miss Global International Guyana crown.
At an elegant little do at the Pegasus Hotel last Friday night, the 23-year-old was officially announced as the 2017 queen, as well as the new face of Jordana Cosmetics Guyana, one of the official sponsors of the pageant.
She was crowned by her predecessor, Poonam Singh after an emotional farewell address about her amazing year as reigning queen.
Dookie had finished second runner-up in the Miss India Guyana pageant, which was her first go at pageantry, after being encouraged by friends to give it a shot.
"I mean, it was disappointing not to win. Of course, no one wants to be a loser, but after the Miss Global International asked me, I decided to try again. I'm so excited and honoured that they chose me, and I think this is my shot, my chance to give it my all and bring home the international crown," Dookie said.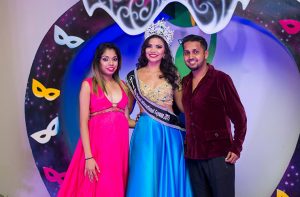 It was actually her experience at the Miss India Guyana pageant that gave her the edge, and paved the way to that crown.
"We had about 15 delegates, and because of time constraints, we were looking for someone with experience. And so Cynthia Dookie came out as the winner, because of her experience," revealed National Pageant Director, Hashim Alli.
"The applications would have been judged by a panel, and a decision was made for selection," he said.
Alli and his wife, Melicia Partab, took over as the pageant's national directors some four years ago, and Guyana has seen some of its most consistent improved performances at an international pageant ever since, leaving quite the shoes for Dookie to fill.
In 2014, Onesha Hutson not only finished in the Top Ten, and in the Top 5 for Best Talent", but also took the coveted prize hor "Best Smile".
Then in 2015, Alicia Bess finished just one place behind – as second runner up, when the pageant was held in Trinidad and Tobago.
Now, last year Singh finished as first runner up, while also copping special prizes for "Best Personality", "Best Maja Outfit", "Best Evening Gown (which was designed by local guy Quinton Pearson), and "Best National Costume", which was designed by Melecia. Singh also finished in the top three for "Best Talent".
Hashim is eager to see this consistency continue, which means they're gunning hard for that crown this year, and to leave a proud legacy behind for others to follow.
The Miss Global International was founded by Jamaican, Lachu Ramchandani, in his home country, but eventually moved to other parts of the world.
Approximately 40 countries take part in the pageant, which features a variety of segments, such as national costumes, swimsuits, which must reflect the colours of their country's national flag, talent, evening gown, question and answer, and the segment with the highest score, the interview.
This year, the pageant will be held again in Montego Bay, Jamaica from Sptember 6 – 10.
Here's wishing Miss Dookie all the best as she represents 'The Land of Many Waters'.