–Ramjattan calls for action on recommendations on youth, violence and crime
CITING procrastination regarding various reports, Public Security Minister Khemraj Ramjattan has called for more action on recommendations relevant to youth, violence and crime.
At the same time, a call has been made for the authorities to place emphasis on youth involvement in the decision-making process of the country's policies regarding the nation's youth.
Speaking to a packed room at the Pegasus Hotel on Wednesday night during the University of Guyana's (UG) Turkeyen & Tain Talks, Ramjattan noted that there have been a number of reports which form part of the government's strategy which centres on youth, crime and violence.
These include the United Nations Report on Violence Against Children in the Caribbean as well as the 2010 UNDP Citizens Security Survey, among others.
Noting that they are all major reports, he said such reports would remain on the shelves over the years.
"We have to start utilising recommendations of these reports to immediately walk the talk," he said, noting that if such is not undertaken, the results can be detrimental.
Ramjattan told the gathering that from such reports, there is a correlation cited between young people and drugs or alcohol, noting that if someone is going to be a standout from the youth ages, that person can be affected by factors such as unemployment or poverty.
Touching on the recent Georgetown Prison unrest, he informed the gathering that information from the prison hierarchy indicated that out of every five prisoners, only one can read.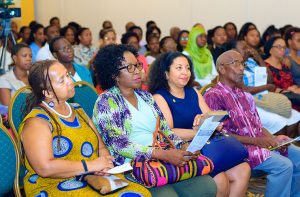 He said this is relative to the entire prison population across the country's prisons.
"It's very serious," he said, noting that the government has a number of findings and recommendations which will be effectuated.
He said the issue of skills training is being addressed, noting that in each police division across the country, the commander of the division has been tasked with developing social programmes which integrate children into progressive projects "especially those who may have come from dysfunctional families".
The minister noted that such programmes have proved to be effective since they have impacted positively in communities which in the past had high crime rates.
He said having received the recommendations, the priority ones are addressed and funding is sought for such programmes
WORKING WITH GANG MEMBERS
Pastor Eworth Williams of the Heavenly Light Church in Cooper Street, Albouystown noted that the church has been working with gangs for a number of years.
Speaking on the subject of youth and violence, he said the church is not only about the four walls, but rather an avenue which persons can turn to in difficult situations.
He spoke also of the prison population and posited that all prisoners would have had experiences in the church, temple or masjid.
However, according to him, the reality is no one would have noticed such persons and this would have led to such persons choosing a life of crime.
"So what has happened is that they would have turned to things that would make them noticed," Williams said.
He informed the gathering that in Albouystown, there are approximately 48 main gangs, of which 26 are said to be notorious.
The church, he said, has a good relationship with the gangs, noting that from time to time, he would meet and have discourse with the gang members, "because we believe that if we don't touch them, then someone else will".
He also said it has not been an easy task, noting that at times the church officials would wonder if the persons engaged would really change their lives.
He noted, however, that there are examples of those who have worked to change their lives. "We have a part to play, especially as a church," Williams said.
Youth advocate Derwayne Wills, who spoke at the event, called for more youth involvement in the decision- making process.
He said there are many questions which demand answers. He said when the government changed in 2015, many anticipated the setting up of a Ministry of Youth. Wills suggested that this should be reviewed by the authorities.
He noted that there is a national youth policy while legislation relative to youth is being addressed. However, he called for accountability of various constitutional bodies which have oversight over the nation's youth.
"What we need is action, to fix the system's short-comings," Wills said as he called on the authorities to meet the youth half way.
University of Guyana Health Sciences student, Patricia Gittens, spoke on the issue of mental health. She said there is need for the authorities to place prevention of crime and violence on the front burner. Gittens said the good news is that there is hope in that direction.
The forum, which was moderated by Professor Ivelaw Griffith, Vice-Chancellor of the university, attracted a large turn-out. It concluded with a discussion between the panel of presenters and the audience.