"A BOB Marley did not make Trench Town, but rather, a Trench Town made a Bob Marley."
THIS is the rhetoric used by many residents of Trench Town; one of the largest inner city states in Kingston, Jamaica. Trench Town, despite being the most popular slum in Kingston, riddled with poverty, broken homes, dilapidated buildings and shacks, deplorable infrastructure, unoccupied youths and a history of crime, is often referred to as the "Hollywood of Jamaica."
Birthed out of this impoverished community were many of Jamaica's famous musicians, sportsmen and national heroes. Some of these include Bunny Wailer, Alton Ellis, Mortimer Planno, Joe Higgs, Peter Tosh, Marcus Garvey, the Abyssinians and, of course, Bob Marley. These persons rose to greatness above the horrors of marginalisation, poverty and social ills, and it is this phenomenon which has made Trench Town such an iconic tourism destination in Kingston today.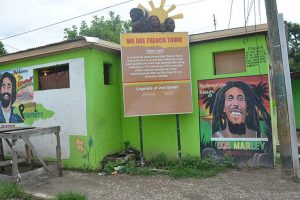 Walking through the streets of Trench Town is like a walk through Tiger Bay or Albouystown, here in Guyana. The smell of 'ganja' permeates the air: the curious eyes of 'limers'; the hungry faces of dogs; the back step salons; the tenement yards; the bare backs of children and the wall paintings of Haile Selassie ,Jah, and Bob Marley along with other Trench Town heroes, sum up the Trench Town experience. It was a raw and unedited experience of poverty in Jamaica and the fight for survival; famous lyrics of Bob Marley's hit, 'Buffalo Soldier.'
Despite the fact that there have been some changes to Trench Town, more than eight decades since its formation, there are no real developmental or social changes to the community. Trench Town is approximately a 200-acre territory that was previously called Trench Pen, where farming and cattle-rearing took place. It was in 1937 that the area was subdivided to construct an urban township which was renamed Trench Town. Housing solutions known as tenement yards were built to facilitate the poor who once squatted there. One yard would occupy about 16 tenants who paid 12 shillings a month to the Government. Trench Town now has seven streets with a population of about 2,000 residents.
Trench Town and Bob Marley
Bob Marley moved to Trench Town in 1956 when he was 11 years old with his mother Cedella Marley Booker, who married Bunny Wailer's father, Mr. Toddy Livingston. They lived on Second Street in a tenement yard which still remains occupied today, though now dilapidated. Bob Marley then moved to Sixth and Eighth Lower First Street in Trench Town, the tenement yard which now houses the Trench Town Culture Yard and Museum. It is a two-minute walk from his mother's house. In this culture yard also lived Vincent 'Tata' Ford, who taught Bob to play the guitar and wrote the song 'No Woman No Cry.' 'Tata' was Bob's hero, and the hero of many other famous Jamaican reggae singers. It was in the very same culture yard that the Wailers were formed and Bob Marley and the Wailers' first album `Catch a Fire' was recorded.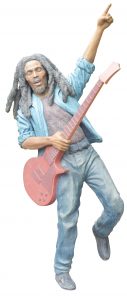 The Trench Town Culture Yard (TTCY) and Casbah Bar are the first inner-city run projects and in March 2006 was recognised as a National Heritage Site by the Jamaica National Heritage Trust. The TTCY is manned by members of the community and aims at promoting Trench Town as a tourism destination of Jamaica. The vision is that this will boost the community's economy and eradicate poverty and the plethora of social phenomena plaguing the residents. Once tourism is boosted, then residents can get involved in self-employment, whether it is selling craft, fruits and offering other services to the tourists.
Business still slow
While the numbers have increased over the years, tour facilitators explained that business is still a little slow and most of the fortunes are used to assist the needy in the community. With the vision of making Trench Town a tourism destination, crime is virtually low compared to previous years. It was in the same Trench Town that some of the infamous political incursions occurred, killing hundreds of persons in the 1970s. Bob Marley headlined the star-studded 'One Love Peace Concert' on April 22, 1978, which saw the unification of the two political rivals, Prime Minister Michael Manley and Opposition Leader Edward Seaga.
Today, while there may be some occurrences of crimes in Trench Town, peace prevails among the residents, with everyone being their brother's keeper. Despite how little may be in their possession, not a child will go hungry or an elderly unsheltered. The residents of Trench Town continue to look up to their hero Bob Marley, and apply in their lives the lyrics of his song Trench Town Rock; "…don't turn your back… give the slum a try…never let the children cry…cause you got to tell Jah, Jah". Indeed, to them, Trench Town rocks.