– Caesar clocks new personal best
GUYANA Defence Force's Leslain Baird and CARIFTA Games gold medalist, Compton Caesar, continued their perfect stride of improvement, with Baird retuning the national men's javelin record for the fifth time in his athletic career, while Caesar clocked a new personal best, when the Athletics Association of Guyana (AAG) National Seniors Championships began at the National Track and Field Centre yesterday.
On a day when many of the juniors outshone the seniors, Baird stood out among the competition as he cleared 73.46m, over three metres better than the 69.97m that he threw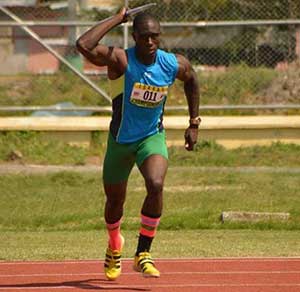 back in March of this year at the same venue.
Though still 10m shy of the 83m needed to qualify for the IAAF World Championships, the throw is almost 10m more than the 65.32m Baird had cleared in 2013 when he broke his first record.
The 30-year-old was way ahead of his competitors, with the closest competition coming from Upper Demerara's Tremaine Beckles who toss the javelin 60.18m on his best throw.
Police's Kleon Spellen was third with a 59.47m throw.
In the men's 100m, Caesar continued his winning ways. The South American Junior gold medalist blazed to a 10.32 seconds victory of the event, where Police's Emmanuel Archibald grabbed the silver medal in 10.36 seconds, clearing the finishing line ahead of the G.D.F's Rupert Perry, who clocked 10.48 seconds.
Archibald did not have to settle for anything less than gold in the men's long jump, however, after leaping to 7.53m on his best jump. G.D.F's Lurex Stewart and Lloyd McCurdy were second and third respectively,clearing 6.83m and 6.67m, respectively.
CARIFTA Games gold medalist, Chantoba Bright continued her dominance as Guyana's best female long jumper, clearing 5.97m for gold.
In the women's 100m, GDF's Kenisha Phillips continued her rivalry against Linden's Onasha Rogers, and got the best of her this time. With a time of 11.74 seconds, Phillips trumped Roger's 11.77 seconds.
In the 400m, Police's Alita Moore got the best of Running Brave's Avon Samuels, clocking 55.71 seconds; Samuels crossed the line at 56.31 seconds.
Junior Daniel Williams won the boys' 400m in 48.78 seconds, taking down Running Brave's Samuel Lynch, who completed the quarter mile in 49.50 seconds.
Claudrice McKoy won the women's 1500m in 4:45.82s, while Winston won the men's 1500m run in 4:00.82s. He also won the men's 10,000m in 33 minutes and 21 seconds.
The National Seniors conclude today at the same venue.