–GuySuCo urges Wales workers
THE Guyana Sugar Corporation (GuySuCo) has revealed that employees who have not reported for work during two consecutive crops will have their services automatically terminated with the corporation and will lose all their benefits.
The corporation hosted a community outreach programme at Wales Community Centre Thursday to convince those still employed within the disbanded Wales Sugar estate to lend their services to Uitvlugt Sugar Estate as part of the estate's improvement programme, and to meet its target of producing 40,000 tonnes of sugar by 2020.
The atmosphere was one of chaos at various points in the meeting, as many of the workers called for severance pay instead of accepting work the company offered them at Uitvlugt Estate some miles away.
But even after a massive improvement plan for Uitvlugt was unveiled by Estate Manager Yudhisthira Mana, the majority who attended the meeting still asked that their services with GuySuCo be severed instead.
Guysuco Communications Officer Audreyanna Thomas said the corporation is concerned not only about filling the labour need at Uitvlugt, but is also concerned about giving social considerations to those in its employ.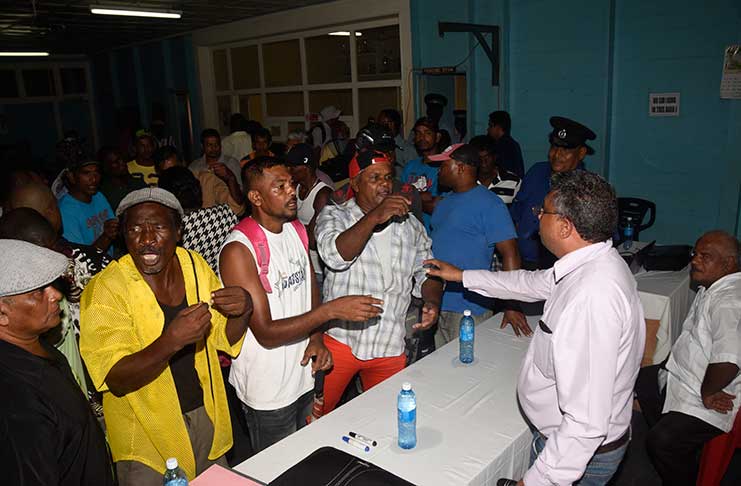 "It's a business decision that the company has to make. Do you terminate the services of your employees while you have over 400 vacancies just a few miles away at another location? Additionally, there are some social considerations also. Severance is a one-off payment, but keeping the employees in our employ ensures that they have a secure employment," Thomas told reporters after the meeting with the workers
She said on reaching their production target, workers usually receive a Weekly Production Incentive (WPI) and receive other benefits as well.
Workers continue their call for severance pay instead of accepting employment at Uitvlugt, but Thomas said that in order for them to be paid severance, GuySuCo must first terminate the services of the employees.
BENEFITS
"… Whereas, if they get the one-off payment they would not necessarily get all of these benefits. In addition to that, if they remain in the employ they get free medical services for them and their families… the transportation is free."
Meanwhile, GuySuCo Industrial Relations Manager, Deodat Sukhu, said based on the agreement between GuySuCo and the employees, if the employees continue to refuse work they are liable to terminate their own employment and lose severance pay as well as all those benefits.
"The employees themselves are fully versed of the agreement. The agreement informs that if you work certain amount of crops and you don't work, what happens. If you don't work two consecutive crops you self-terminate your service. They have since not worked one crop. They have this last crop to give consideration to themselves, else they would have self-terminated their service," Sukhu told the press.
He explained that GuySuCo has already severed 389 of the 1118 sugar workers and has kept in its employ 301 employees of Wales Estate and 374 cane harvesters at Uitvlugt.
After consultations with both workers and the union previously, the workers agreed to remain on the Wales Estate payroll and be transported to Uitvlugt for work.
"Low and behold, the following Wednesday they had a meeting with a political activist or a politician who indicated to them that the current government must pay them off and they seek re-employment. That is what driving them right now," Sukhu said.
He explained that the total years of service the workers had at that time averaged only about 13 years, while their average age is 43, leaving them with an additional 17 years' working life.
"If they get paid severance, if they get paid severance, we consider severance to be 38 weeks' pay, which is less than a year's pay. And you have 17 years working life… it will be preferable for them to work. We severed 389 persons from this location… The harvesting reps for the company, we have not terminated their services, because we need them at Uitvlugt. We have vacancies at Uitvlugt for 406 persons, which include 375 harvesters," he said.
Sukhu stated that only 51 of the harvesters from Wales Estate joined the team at Uitvlugt and worked for an average of $4,200 per day for 68 days during the last crop.