RESIDENTS of the Melanie and Bare Root areas are making calls to the local authorities for better streets within the villages.
The Guyana Chronicle, on Monday, visited the areas after several calls were made by villagers within the communities. The distraught residents aired their concerns following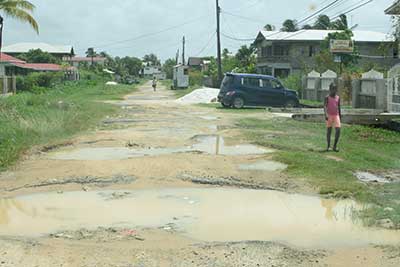 heavy rainfall over the past week which made the situation worse.
"I can't even take a taxi home after work because they either up the price or refuse to drive in the streets, and the rain made it worse; I had to walk through the water and catch a bus," said Cheryl Bobb of Cinema Road, Melanie.
Meanwhile, a resident of the Bare Root area, who gave his name only as Winston, said, "You can't even take your children to school. Look, I was taking my son to school the other day and we fall down in the big hole with water, that's how bad it bad. The government ain't got time with poor people. Since before election they promise us better roads and up to now, nothing!"
In January, the Guyana Chronicle published an article relating to the same issue in the Bare Root area.
This publication made its way to the Buxton/ Foulis- National Democratic Council, Region Four and spoke to the Overseer, Cherlyn Herod. She said that to her knowledge the Ministry of Public Infrastructure has in its provisions, works to be done in Melanie and Colidgen areas.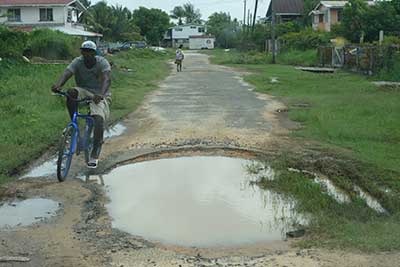 Efforts to contact the Regional Executive Officer for Region Four proved futile. However, an interview over the phone with one of the RDC's engineers, who refused to give a name, said that the council is yet to confirm if the Ministry of Public Infrastructure is doing any works within those areas. However, the engineer further mentioned that there aren't any provisions in their work plans for construction of the roads in the Melanie/ Bare Root areas.
Public Relations Officer of the Ministry of Public Infrastructure, Desilon Daniels during an interview with this publication, related that it is not the responsibility of the Ministry of Public Infrastructure to do internal streets.
She explained, "The internal streets fall under the responsibility of the NDCs upon the collection of rates and taxes. However, upon requests we attempt as best as possible to do rehabilitative works to provide relief to residents. However, we still cater to our previously budgeted projects."