LITTLE do many persons know that the red beans in white plastic bags found on the shelves in shops and supermarkets in the Essequibo region and Georgetown mostly likely have been produced at Dartmouth, Essequibo Coast.
Dartmouth is a vibrant and predominantly Afro community that relies on agriculture for a livelihood, a tradition that has been passed down to villagers from several generations, dating back to the abolition of slavery.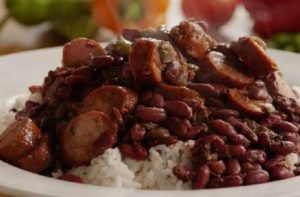 Elderly villagers say cultivation of the red beans in the village began in the 1970s and they have been planting it since in their very young days, following their parents to the farm.
According to them, the majority of the beans sold on the Essequibo Coast is cultivated in Dartmouth, and for many, it has been the means that enabled them to raise their families.
One such person is Megan Benn, 59, a mother of seven. Benn related that she has been planting since she was a girl in school and continues to cultivate a two-acre plot with the help of her son.
She said in her earlier days, it used to be black-eyed peas but in the 1970s, attention shifted to red beans as there was greater demand for that commodity.
Benn nor any of the other villagers were able to say what led to the shift in demand, but noted that since then many of the villagers switched over from black- eyed peas to red beans cultivation.
Today, some 100 acres of land in Dartmouth are under red beans cultivation.
Research indicates that red beans help to lower cholesterol levels due to the large amount of soluble fiber they contain. They are also relatively low in calories and when combined with brown rice, provide a complete source of non-meat protein.
Commercial buyers from across the country frequent Dartmouth every fortnight to make their purchases, which they resell in the Essequibo region and Georgetown.
LOVE FARMING
According to Benn, tending to her field is hard work for someone her age, but she finds it very difficult to divorce herself from the land.
"In a bumper crop, I reap about 2000 pounds of beans and it sells at between $100 to $140 per pound. Enough money to support myself and grandchildren, but lately the weather has been messing up the business," she said.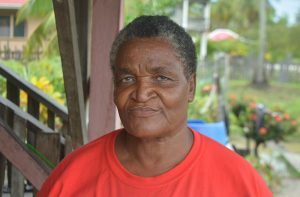 The mother of seven grown children said drainage and irrigation in her farmland is poor, resulting in a sizeable portion of her farm being lost to flooding.
"I used to reap 2000 pound of beans, but the last crop I was only able to reap 1500 pounds. The authorities need to came in and fix the problem. When it rains, the rice fields flood and the water drain into the red beans farms and it is affecting we poor farmers," she said, as she stood in the bottom house of her humble abode.
Because of heavy rainfall, this publication was unable to visit the farm to have a first-hand look at the situation.
And just as the interview with Benn was winding down, an old man on a bicycle with a shovel about the same as his height, emerged from the dam leading to the backdam, and the villagers called out to him to chat with this publication.
According to them, Orpheus George, 84, is a man with institutional knowledge having been a farmer practically all his life.
George enquired which publication he was speaking to, recalling that many years ago he had spoken to a journalist on a drainage matter and when he opened the paper the next day, he saw a headline that made him nearly faint.
The elderly man recalled he was in church when he saw his photograph and a big screaming headline "Popular Dartmouth resident Brother George endorses PPP".
OUTRAGEOUS LIE
"I did not know what to do, whether to run, walk, holler or hide, but the thing was an outrageous lie. The next thing I know, the news reach America and the Americans start to ask my church who is the Brother George that is a church member declaring allegiance to a political party. I am a devoted churchman, I am not PNC or PPP, I am a man of God," he said, pointing out that never before he had to do "so much explaining" in his life to dispel a lie.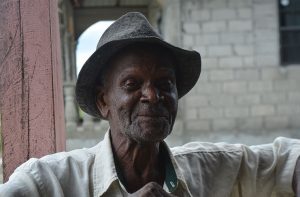 After some encouragement by the villagers, Brother George parked his "Big Ben" bicycle that keeps a loud drumming sound when in motion, put down his shovel that looks like a lance from a distance and agreed to talk with this publication.
He related that as a young man, he had noticed that many of the villagers were planting red beans and he never wanted a stiff competition and decided to plant rice as a main crop with some red beans.
And after several years as a farmer, he got a job as a lorry driver in the 1970s with the Ministry of Agriculture and had to sacrifice his red beans plot, as it was demanding too much of his time.
Brother George said he quitted the job after several years with the Ministry of Agriculture and returned to farming and has not given up since, even though a miller still owes him for paddy he had supplied from the last crop.
"Rice is not doing well and you have rates to pay; it is better you use the land since it keeps you fit and disciplined," the oldest farmer in the quiet village said.
Aside from red beans, farmers in Dartmouth also cultivate coconuts, rice and bananas and reared goats, sheep and pigs.
Many years ago, the village was the leading supplier of pork on the Essequibo Coast.