— to improve efficiency in Police Force
THE Guyana Police Force (GPF) training centres have trained 2,152 ranks to improve the level of efficiency in the Force, since the beginning of the year.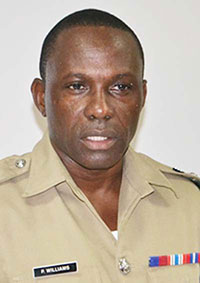 This is according to Force Training Officer (FTO), Assistant Commissioner, Paul Williams, who was at the time speaking at the commencement of the second phase of training for 2017 at the Police Officers Training Centre, Eve Leary, Georgetown on Friday.
The training, attended by Police Commissioner Seelall Persaud and other senior ranks of the Force, was held under the theme "Forging ahead with professionalism and intelligence-led policing in collaboration with stakeholders."
The Junior Officer's Course, Number 26, focuses on station management and targets newly- promoted subordinate officers.
Williams explained that the objectives of the course are, to build competencies and increase the capacity of ranks to perform efficiently and effectively.
He explained that this will help ranks to provide a high level of service and make appropriate decisions to sustain coordination and team-building at all levels.
For the year, there were some 32 courses overseas and 66 police officers drawn from every division benefitted.
Locally, in 'A' Division, 282 ranks were trained; 226 in 'B' Division; 182 in 'C' Division; 164 in `D' Division; 119 in `E' Division; 113 in `F' Division; and 120 in `G' Division.
The Criminal Investigation Department (CID), Tactical Services Unit (TSU), Traffic Department, Finance Department and the General Office accounted for 947 ranks.
The current batch, Williams said, will be exposed to training of the junior command level. Participants will be instructed in areas such as communication, mentorship, stress and anger management, principles of natural justice, conflict resolution, introduction to psychology and quality service delivery among others.
Commissioner Seelall Persaud said a lot of work is being done to improve the quality of ranks in the Police Force.
"The skills set has moved from knowing how to do things, to knowing how to deal with people, knowing how to communicate, knowing how to motivate and knowing how to lead…," the commissioner said.
He explained that the content of the courses are reviewed and refined.
"Ten years ago, computer training was not necessary in the Force, now it's absolutely necessary and those who don't acquire the skill will be left behind and watch their colleagues go pass them in the hierarchical structure," the commissioner noted.
He also told the ranks not to leave the classroom if they do not understand what is being taught.
"This is an investment the Force is making in you, so make sure that you learn the course," Seelall said.
He added that it is expected at the end of the training their performance will be evaluated.
"We cannot conclude at the end of such an analysis, that it was the facilitator's problem because he did not teach. We are all adults here and this is an investment that the Force is making in you," the commissioner stressed.