FOR THE first time, Radio Shack store has opened its doors to Guyanese at the Giftland Mall, Turkeyen, through a Unicomer- Guyana franchise and shoppers are being invited to enjoy innovative technological solutions as they purchase.
During a simple launching ceremony in the Giftland compound on Friday, Managing Director of Unicomer- Guyana, Clyde Dehaas, indicated that although it is widely reported that the majority of Radio Shack stores in various locations in North America have been shut down because of bankruptcy, hopes are high for stores in Guyana and the rest of South America and the Caribbean.
"The operations in South America and the Caribbean (are) not affected by anything that is happening in the USA. In South America, in our part of the world, Radio Shack is a very strong brand and we will continue to build out this brand and bring the quality that is desired and that is needed in Guyana," Dehaas said in delivering remarks.
Unicomer said too that it has plans for expansion throughout Guyana just as it has spread its wings with Courts Guyana Inc. and Lucky Dollar. It has also recently opened RadioShack stores in the Caribbean Islands of Barbados and Trinidad and Tobago. The company said in a press statement that parent company, Regal Forest Holdings (RFH), in 2015, acquired brand and franchising rights for Radio Shack in South America, Central America and the Caribbean.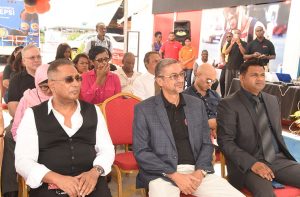 Meanwhile, President of Georgetown Chamber of Commerce and Industry (GCCI), Deodat Indar, welcomed the new addition to business in Guyana as one which establishes Guyana as a home for investment. "A lot of people speak doom and gloom for Guyana because of the numbers that we see and whenever we go around the country we see reduced traffic, reduced consumer spending, reduced jobs… In the face of negative national data of trade and consumer spending, you find that this company , Unicomer, is deciding that we're gonna invest in this environment to send a signal that Guyana is a destination for investment, it's a destination for expansion and in the case of UNICOMER, it's a destination for diversification," Indar said.
Regal Forest Holdings, parent company for Unicomer, acquired the brand and franchising rights, and intellectual property on April 15, 2015 and now has 73 Radio Shack stores throughout the world.
"The new radio shack store provides innovative solutions to customers' everyday technological needs and a unique and interactive shopping experience," Indar said. He added that the range of high quality electrical and technological products is exciting and 99% of them are branded 'Radio Shack'.