–in the world of fashion
"BEING an up-and-coming designer in Guyana is really hard, especially if you don't have any means of income to pursue this dream.
"And if you don't associate yourself with the right set of people, you will run into problems," advises 22-year-old Mark Junor.
A designer, model, makeup artist and dancer, Junor is among those creative minds who auditioned to be a part of Guyana's delegation to this year's CARIFESTA celebrations in Barbados.
Starting out since 2013, Junor has already released five collections, beginning with a small five-piece one called "Power of A Woman". Junor had designed this collection while taking part in the Kross Kolor fashion competition, "Center Stage", which saw him ending in third place.
Since then, there was "Black Poison", which he showcased at the Guyana Police Force's Hat and Fashion Show in 2014, as well "Sexes Fantasy", also done in 2014, and "Sparkle Paradise", which was designed for a mother-and-daughter pageant last year.
His clients went on to win the junior category of that pageant, wowing in the creations. However, his latest collection, "Epiphany of Mark" that he debuted at the Guyana Fashion Week last November really turned some heads. And really said, Mark Junor has arrived, Guyana!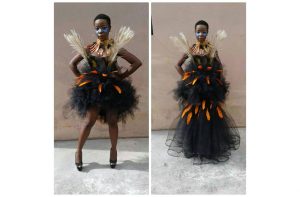 Mark himself saw the collection as the epitome of what he is all about.
"I was going to just sketch 15 pieces without any storyline, being it was when my mentor said that's not the way to get your mood board. So I had to do my research," Mark recollected about the genesis of the collection.
"This collection," he said, "was the birth of a big change in my life. Because of this collection, I'm open to using any colour and making my manic pop. The cultural part was me saying thank you to my gold sponsor, MAKEDA, for sponsoring the collection.
"The "Epiphany of Mark" covered a lot of things for me: Family togetherness, my relationship with the people around me, and the world of fashion that I see."
Despite only starting his collections in 2013, Mark had been around fashion for some time now.
"I would have been doing work long before then, sketching for friends and family, doing my own twists on clothing," Mark sair.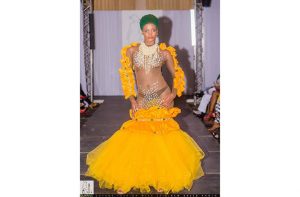 All that aside, however, this talent to design, to be creative and expressive, is one that Mark has carried pretty much all his life.
"I was born with this talent," the former Freeburg Secondary student boldly asserts. It actually all came together for Mark during his journey of strengthening his self-esteem, even as he came to grips with the fact that he was just born to always stand out.
"Being that I was chubby growing up, I was ashamed of my body in secondary school. But then I realised that I was gifted; I started wearing things that some would say it's not for the body type. But I did not care; I was building that confidence level to 100. After that, I started helping out relatives and friends, and I realised that dressing people actually makes me feel comfortable; a joy comes over me when I see clients comfortable in their skin."
Though talented, Mark admits that at first the skill needed some honing, and that it took time for him to sharpen his skills.
"I started out learning the hard way," he said, "wasting fabric, choosing the wrong fabrics until I was told by a good friend and well known designer, Mwanza Glenn that I need to learn the characteristics of different materials; what goes with what, and what your finishing should look like: Neat at all times, even if it's a pattern!
"I gained a lot from him, and I hope now that some day, I will share what I learned from him and more to someone else."
As time went by and he started becoming more confident in himself and his skills, Mark started sourcing his motivation for his designs from his surroundings, watching it go from concept to creation.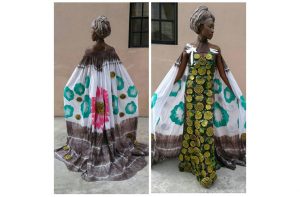 "My inspiration for my designs comes from all over: My mood, events around me, nature, by sitting and having a conversation with someone and ideas flow. My inspiration also comes from research," he pointed out.
But now, Mark is ready to break out of just the local market and showcase what he has to offer beyond Guyana's borders.
He knows his participation at CARIFESTA will be the perfect start, as he looks to gradually move up to the regional scene, and then perhaps one day conquer the international arena.
He's getting the ball rolling with two pieces that he submitted to CARIFESTA.
"CARIFESTA gives one the opportunity to showcase their country in different ways, and I said to myself that showing my creative skills from sketches to reality, and having the opportunity to represent my country, I was going to go all out. My friends assisted me in this journey; I was even sponsored by MAKEDA and Dr. Kari Munroe to make the audition.
"Being motivated and appreciated by the people around me made me audition for CARIFESTA," Mark said in closing.