PRIME Minister Moses Nagamootoo has said that Russia has played an important role in Guyana's development, pointing out that bilateral relations between the two countries have been strengthened remarkably over the years.
Prime Minister Nagamootoo, who is performing the duties of President, was at the time speaking at the National Day of the Russian Federation on Friday held at the Russian Embassy.
Noting that the government has recognised that "much more could be achieved in areas of investment, trade and tourism," the prime minister said the two countries have collaborated in areas of politics, economics, culture, science and security.
Russia reached out to Guyana when it needed assistance. "Who does not know that Guyana's debt to the Russian Federation has been cancelled?" he said.
Since the establishment of diplomatic ties on December 17, 1970, Guyana and the Soviet Union, and now, Russia, have enjoyed cordial relations.
"This year will be three years short of the Golden Jubilee of this longstanding bond of friendship," Nagamootoo said, adding that like any enduring relationship, it has been built on respect, mutual trust and understanding, and has contributed to expanding programmes of cooperation.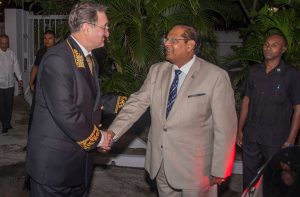 "Guyana and the Russian Federation have also fostered a strategic partnership, which helps to navigate the global challenges confronting us," the prime minister said.
He noted that the size and might of Russia are awesome, that country being the largest country in the world with an area of some 17 million square kilometres, and a population of almost 150 million people.
He noted too that Russia straddles Europe, Asia and North America, and shares border with 14 countries.
"It would be an understatement to say that Guyana highly values relations with the Russian Federation," the prime minister told the gathering, which included Minister of State Joseph Harmon and Russian Ambassador to Guyana Nicolay Smirnov, among other officials.
He also said that Russia has contributed and continues to contribute to Guyana's education sector through scholarships and acknowledged other areas of cooperation in fields such as health, fisheries, culture, and visa-free travel, which he said have brought the two countries closer.
At the multilateral level, he said Guyana and Russia have supported each other's interests and concerns on a multiplicity of issues.
These include the promotion of investment, trade and economic cooperation, climate change and the promotion of peace and global security.
The prime minister also noted that Guyana is committed to the establishment of a "Green State" that is fully compatible with its adoption of the 2030 Agenda for Sustainable Development and the Paris Agreement on climate change.
He said too that this country's development agenda focuses on maintaining a balance between environmental sustainability, while still achieving the objective of economic and human development.
"As a consequence, Guyana is determined to benefit from the experiences of larger partners such as the Russian Federation," he told those gathered.