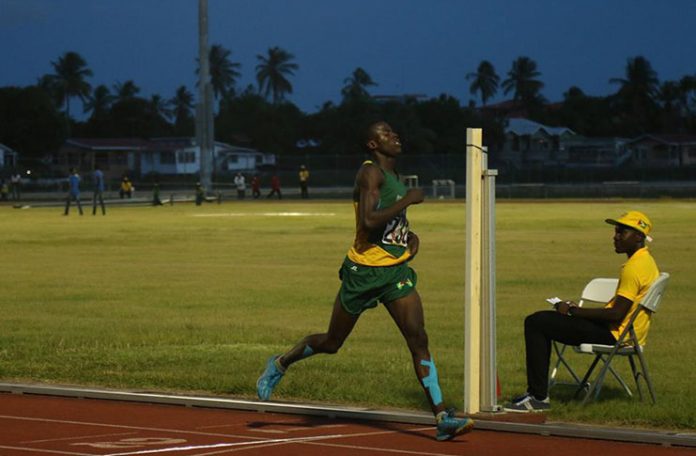 …wins silver in the South American Juniors boys' decathlon
NINETEEN-year-old Dennis Roberts joined the Guyana squad for the South American Junior Championships with the hope of finding a place on the team in one of his regular events – the 400m, 800m, high jump, triple jump or long jump – but when he found out that there was an opening for a Boys' decathlon athlete, he just had to volunteer.
It was a willingness to try new things that led Roberts to volunteer for the event, which ended with his finishing with a silver medal in the decathlon at the South American Junior Championships (SAJC), when it was held in Guyana last weekend at the National Track and Field Centre.
"I wanted to take a chance at doing something new, and I did well so now I plan to keep doing this forever even," Roberts said.
In Athletics, the men's decathlon is considered the "ultimate all-round test", because it covers 10 events from the whole range of athletic disciplines – running, jumping and throwing – being contested in just two days. The traditional events are the 100m, long jump, shot put, high jump and 400m, competed in on the first day, and the 110m hurdles, discus, pole vault, javelin and 1500m competed on the second day.
Competitors earn points for their performance, based on a predetermined formula, in each discipline and the overall winner is the man who accrues the most points.
However of these 10 events, only nine events were contested at last weekend's meet, after the pole vault was cancelled due to technical difficulties.
For the most part, the events were not that difficult for Roberts because, as he puts it, he's always been somewhat of an all-round athlete. Moreover he was already seasoned in several of the events that the decathlon involved.
"It was very easy for me, because I've always used to be a well-rounded athlete. In primary school I used to throw the shot put, javelin and discus, I used to jump, long jump, high jump. But it was just at primary school that I used to throw," Roberts explained.
"The hardest part was that it was in two days that I would be doing the event, so I wasn't really prepared for that."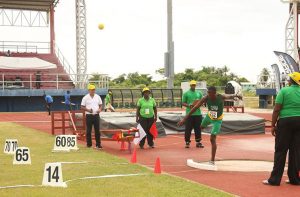 Nonetheless, Roberts had just two weeks to restart those events that he no longer did regularly, as well as train for those events that he never did – like the hurdles and pole vault. For the hurdles, he had the shortest amount of time, yet he finished second in this event.
"It was just two days before the competition that they really started teaching me how to clear the hurdles. I didn't get full training to jump over the hurdles so it was quite hard, but I tried it anyway," Roberts said.
"I said it my mind I wasn't settling for a third place; it was either first or second, because it was already just three athletes (in the event)."
With that determined mindset Roberts pushed forward from event to event, and gained momentum as the events progressed.
Roberts topped the high jump and long jump, ending with 1.78m and 6.70m, respectively. He also was the first across the finish line in the 1500m with a time of 4:19.00s. In the 100m he was third (12.07s), while he had a second-place finish in the 400m (53.9s), and even a second place in the hurdles (17.40s).
It was in the throws that things were the most difficult, ending third place in the shot put (8.91m), discus throw (24.16m) and javelin throw (33.61m). Overall Roberts ended with 4 936 points for the silver, the event was won by Peru's Ignacio Sanchez who had 5 271 points, and Brazil's Jordan Santos De Souza was third with 3 361 points.
Motivated by his silver medal, Roberts now has big plans to see how far he can go as an athlete in the event. But it is going to be easier said than done; more so when Roberts enters the senior category next year, and he'll be in a pool where points go over 8 500.
However, what Roberts achieved last weekend has opened the door for all stakeholders to realise the kind of potential that exists for Guyana to go beyond our conventional events and start investing in all-rounded athletes.