THE Environmental Protection Agency (EPA), in collaboration with the United Nations (UN), launched the Guyana State of the Environment Report (GSER), which was presented to Minister of State, Joseph Harmon and Director of Environment, Ndibi Schwiers at the Umana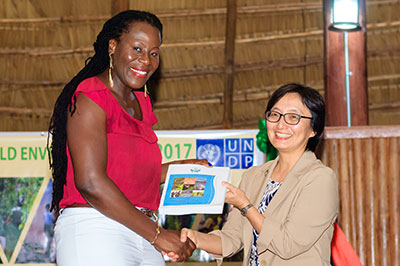 Yana Monday night.
The report was launched also in recognition of the United Nations World Environment Day which was commemorated internationally on Monday. Delivering the feature address at the launching ceremony, Minister Harmon said based on the state of the country's economy and Guyana's current move toward the green development strategy, the report's launch is timely and important.
Guyana is already making strides in accomplishing a green state and just Monday morning he was on an official visit to Bartica to be part of an event where funds leveraged from the Government of Italy, by the Caribbean Community (CARICOM) Climate Change center, to the amount of US$165,000, was utilised to finance a base study data collection project related to making Bartica a green town and for the provision of green and sustainable energy there.
Greening Guyana, Harmon said, is more than just a colour, but a development path for all Guyanese. "It is happening at a time when there is increased scrutiny globally on the protection and sustainability of environmental values for the benefit of present and future generations…and secondly an elevated need for a repository of information and data on the environment by stakeholders, groups at all levels to aid the decision-making processes."
Environmental protection, he said, is constitutionally guided and advocates specifically for every Guyanese to participate in activities which promote sustaining the environment and making rational use of natural resources.
"Our constitution also empowers the government to take all appropriate measures to conserve, protect and improve the environment, a mandate, the execution of which requires the availability of information on existing environmental conditions. The development of the State of the Environment Report is therefore very significant because it provides information about the status quo regarding the environment, facilities, the detection of information gaps, identifying areas in need of further research and highlighting areas that require the attention of various government agencies," he said.
Guyana being uniquely positioned at the heart of the Guianas shield is endowed with rich and unique biodiversity; high species indemnity; the world's second highest percentage of rainforest cover; significant resources for the production of solar, wind, hydro and bio-mass energy; non-renewable resources including diversified mineral resources and petroleum; and an abundance of land and fresh-water supplies. Harmon said the Guyana and by extension, world population, benefit from Guyana's natural resources which provide various environmental benefits including fresh air, clean water and food, natural, coastal and flood protection, climate regulation and economic productivity.
But maintenance of the these resources are affected negatively by illegal mining, poor mining practices, improper waste disposal, pollution of waterways, habitat loss and fragmentation, resulting in environmental degradation. Harmon said if these go unchecked, the quality of life and livelihood of all can be adversely affected.
That is why our environmental protection requires "a perspective that allows for great awareness of the state of the environment so that focused interventions could be made as required."
It is with this in mind, that Harmon welcomed the report "to the body of work available on the environment in Guyana." He said it will serve as a baseline for reports to follow and reference in preparation of green stage development strategy and plan. "The Green State Development Strategy represents government's commitment to protection and stewardship of our national patrimony and commitment to lay a firm foundation for inclusive green growth and sustainable development," Harmon said, and added that the document will address specifically protection, restoration and sustainable use of terrestrial and marine ecosystems to ensure that natural resources provide greatest economic, social and environmental benefits for all Guyanese.