Leader of the Opposition, Bharrat Jagdeo says he received a letter from President David Granger on Friday afternoon, informing him that the list of six persons nominated for the appointment of a chairperson of the Guyana Elections Commission (GECOM) is "unacceptable."
Jagdeo had submitted the second list to the President on May 02, after his first list of nominees was also rejected in January. In a statement issued to the media, Jagdeo attached the President's letter, which stated that "I have examined the Curricula Vitae of the six persons in light of the criteria defined in my letter to you dated 2017.03.14. I have found the list to be 'unacceptable' within the meaning of the Constitution and of those criteria."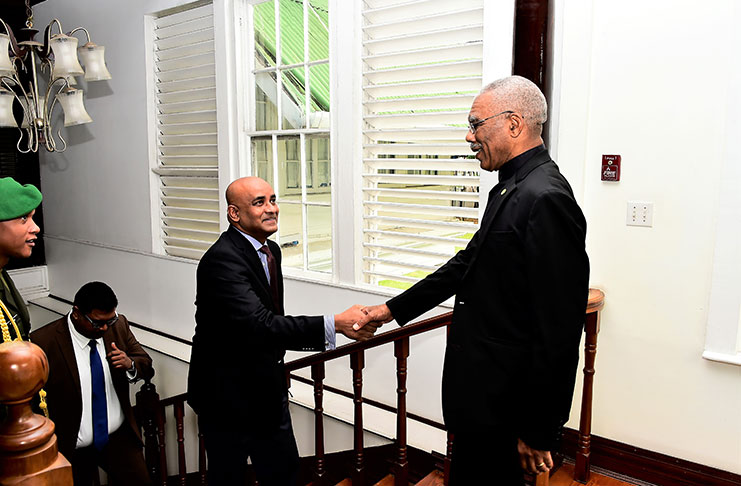 According to the Opposition Leader's statement, the President's letter does not indicate what next steps, if any he [the President] requires to be taken.
"This letter was received a few hours after the Leader of the Opposition concluded a press conference, at which he was critical of the President's overall approach to this issue, which he considers to be of fundamental national importance.
"The Leader of the Opposition notes with deep concern the cavalier and callous manner in which the President continues to express no confidence in and denigrate the professional reputation, integrity and competence of Guyanese of high calibre who have rendered sterling contributions to the development of our country and in service to our people and who have distinguished themselves in their individual endeavours and pursuits," Jagdeo noted.
The statement reiterated that the President is bent on unilaterally selecting a person of his choice in violation of the letter and spirit of Article 161 (2) of the Constitution and indeed, the Carter Formula.
"The Leader of the Opposition hereby assures that should the President proceed along this unconstitutional, undemocratic and diabolical path there will be litigation and other consequences for which the President will be responsible," Jagdeo's statement concluded.
Jagdeo's second list of nominees included: Justice of Appeal BS Roy (ret'd); Justice William Ramlal (ret'd); Ms Oneidge Walrond-Allicock, attorney-at-law and a former magistrate; Mr Kashir Khan, attorney-at-law; Ms Nadia Sagar, attorney-at-law and Mr Gerald Gouveia.