VILLAGERS of Chenapau, Region Eight, on Monday protested the arrests and detention of fellow residents of the community by law enforcement officials on Sunday, even as those arrested remain in police custody.
According to Michael Mc Garrell of the Amerindian People's Association (APA), a village meeting was held on Monday to discuss Sunday's occurrences and it was there that the villagers decided to protest. Mc Garrell, who hails from Chenapau described the situation as "sad" and noted that many of those arrested have documentation permitting them to work in the area, described as "down river".
He said too that the said persons have paid for claims and sell their minerals to the Guyana Gold Board, while adding that it is unfortunate that those in police custody remain detained. Many of the villagers, including children held placards which called on President David Granger to fulfill his promise of a 'good life for all'.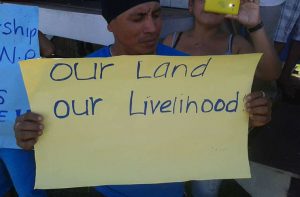 "The community has indicated that they will continue to fight…this will not be the end of this," said Mc Garrell, who noted that the existing situation involving illegal mining within the Kaieteur National Park provides an opportunity for there to be stakeholder discussions on the how the park should be used and managed.
Meanwhile, Crime Chief Wendell Blanhum told Guyana Chronicle that the 21 persons who were arrested, while working on mining operations at Kaieteur National Park on Sunday have not yet been released. Blanhum said those who were transported to the city on Sunday afternoon up to press time were being interviewed by police at the Criminal Investigation Department (CID). "No one has been charged. We are now interviewing the persons who are in police custody," Blanhum stated.
It was reported Monday that some 20 persons residing at Chenapau, Region Eight, had been arrested and transported to the capital city Sunday during a joint operation by the Guyana Defense Force (GDF) and the Guyana Geology and Mines Commission (GGMC), after they were found mining illegally at Kaieteur National Park.
Meanwhile, Director of Tourism, Donald Sinclair, called the Kaieteur National Park "Guyana's signature attraction area," which is set aside for the protection of Guyana's biodiversity, and said Guyanese should be the last to think of spoiling the environs of Kaieteur Falls. The Kaieteur National Park is set aside as one of the Guyana's protected areas and gold mining or any other mining there is prohibited. It is the home of Kaieteur Falls, the world's highest one-drop waterfalls, which flows some 741 feet before making a single drop into its Gorge.
"The park is one of the oldest and most iconic Protected Areas of Guyana and was established in 1929," the Guyana Chronicle reported Monday. Sinclair told the Guyana Chronicle that activities which encourage destruction are prohibited in any area which has been set aside as a National Park and has advised that strict control of activities be placed around the Kaieteur National Park. "It is a national park which means that some activities are prohibited and highly controlled. Those activities will have to be tightly controlled because of the effects…" Sinclair told the Guyana Chronicle.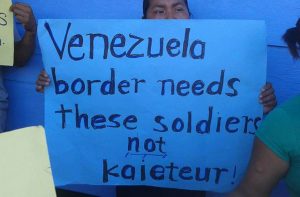 He recalled in the past Kaieteur had been negatively impacted by upstream mining which had caused the country's most prized flow of water to be polluted and discoloured. "Kaieteur in the past had been impacted by mining upstream…. Because of the special nature of the Kaieteur National Park, because of the special nature of it, illegal mining cannot be allowed. Illegal mining should not be allowed anywhere, because it is illegal," Sinclair said.
On Sunday, Minister of Natural Resources, Raphael Trotman, confirmed that an operation took place at the Kaieteur National Park and that several persons — primarily workers — were arrested. It is the intention of the Ministry of Natural Resources to seize and, or disable all dredges found working in the area, Trotman asserted. "I am looking at seizing and/or disabling them," he told the Guyana Chronicle, while explaining that there is no routine monitoring of the Kaieteur National Park areas as it is not a designated mining district.
Trotman explained that a few weeks ago it was observed that there was a resurgence of illegal mining at the Kaieteur National Park contrary to regulations. As such, a secret operation was planned to halt the operations at the behest of President David Granger, who has overarching responsibility for the environment. Sometime last year, GGMC officials had visited the area and stopped miners from operating in the protected area; those persons were warned and reaffirmed government's strong objection to any kind of mining in the area. During that operation last year, a policeman lost his life when the boat in which he was travelling capsized. "Kaieteur is expected to be maintained as pristine place for protection of our bio-diversity, the Kaieteur National Park is part of the protected area, so a decision was taken to have a decisive operation to address the situation."