– Gavin Mendonca
GAVIN Aaron Mendonca did not have a specific career goal in mind while he was growing up, but an experience an experience during a family trip to Berbice clearly revealed to him just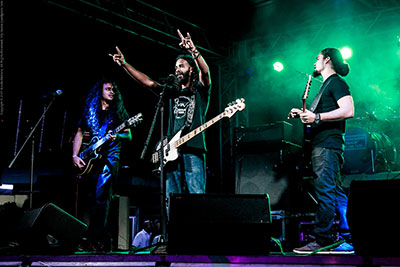 what it was that he wanted to do with his life.
The family was looking through through a store in New Amsterdam called "Evil Eyes" when Gavin saw what would change his life – a guitar- hanging on the wall.
"It was dirt cheap, and I think I had just about that amount in my bank account. I had my 'Visa Card', which I had never used, and I decided I wanted this guitar. My mom said, 'Buy it if you want it.' So I spent all my money and bought it and since then, I've just been playing," Gavin expressed recently.
In an interview with Chronicle, the 25-year-old, who was born and raised in the City, recalled that it wasn't more than two weeks after getting the guitar that he realised that music was what he wanted to pursue.
At that time, he was studying at the University of Guyana (UG), but computer science was just something he did to kill time, as he puts it. "I taught myself how to play the guitar and started writing songs. What started off as a hobby….just about two weeks into this new hobby, I knew this was what I wanted to do."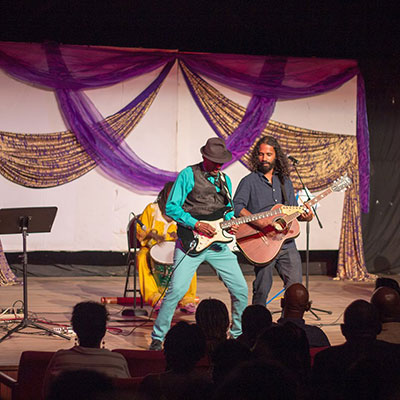 Although Gavin thought a lot about the universe and how things work while he was growing up, his uncle, Jude Mendonca, and his siblings listened to rock music in his presence. "So it was always there in the atmosphere. I especially like punk rock because of the themes involved, like rebellion, anarchy, dreams, believe in yourself, say no to 'the man,' live the life that you see fit. So punk rock resonated with me."
Creole Rock
Gavin has written many songs so far based on his life's experiences and with themes that reoccur to him. He started with a song called "City by the Tides" that prominently featured Creolese, and followed up with "The Great Rebellion" based on the 1763 Berbice Slave Rebellion.
"I realised that I didn't just want to be another rock musician. I wanted to be a Guyanese rock musician. I wanted my music to represent who I am, where I'm from and my culture. So Creole Rock is a fusion of Guyanese folk music with creole culture and dialect and punk rock," he explained.
Gavin wants to be able to contribute to the preservation of Guyanese culture through his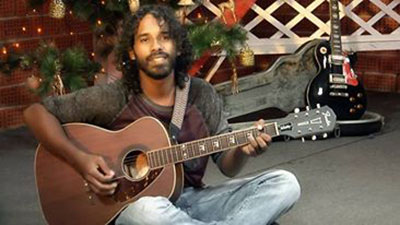 music. "Our folk songs are being lost to time. Young Guyanese people today don't really care much about culture; they care more about foreign cultures, about foreign trends. I see it fit to represent my culture so I aim to be a cultural ambassador of Guyana."
The young musician, who is also into radio broadcasting, is encouraging DJs to play more local music on the radio. "It's important to broadcast everything that is Guyanese. We have to promote ourselves and support each other. Most people rather invest in foreign things." Gavin added, while also calling for the return of copyright laws.
Gavin's future goals include performing the "unique Guyanese sound" around the world. Already, he has performed in neighbouring Suriname and Trinidad. "I performed for two nights recently in Trinidad at the third annual Skyy Rock Festival, which is the biggest rock festival in the Caribbean. It hosted 20 bands including one from Guyana."
Gavin is also the bassist of a heavy metal band called "Feed the Flames" of which he's been a part of for the past five years. The band's aim is to participate in the prestigious Wacken Open Air festival in Germany next year. It is the largest heavy metal festival in the world.
"Music has changed my life significantly in the most positive way. It contributes to my happiness, so I'd like to encourage young people to find music. Music has taught me so much about life, discipline, respect, proper management of time, project management, setting goals and accomplishing them. And it also allows you to be empathetic because you can be able to understand how someone else feels," says Gavin.
Appearance
Apart from his belief that long hair adds to a good rock performance, Gavin said he keeps his hair long to teach people to have respect for others regardless of their appearance.
"People judge you based on how you look. Part of my belief is detachment from physical vanity. This is a concept that is practiced in Rastafarian of which I have adopted some of the ideologies. I believe our hair tells a story. Every trip I go on, I come back with experience, new knowledge. My hair is like a keepsake.
"There is a stigma attached to rock music. People judge others because they wear black, grow their hair out, have piercings and tattoos. And they believe that just because you're into rock, you're uneducated, delinquent; cause trouble, worship the devil, drink rat blood. Some of this might be true, but I believe it depends on the individual and his/her circumstances."
Gavin, a former student of South Road Nursery, Sacred Heart Primary, and Bishops' High, is an independent broadcaster on 98.1 hot fm.
He produces "Today's Playlist" on Saturday nights and "Rock and Roll" on Friday nights between the hours of 6pm and 8pm. Both shows, which promote rock music, are on 98.1 Hot FM.