-President urges dismantling of old divisions
THE ATTAINMENT of Independent status some 51 years ago represented a 'free state', and President David Granger believes that all citizens should be inspired to work together to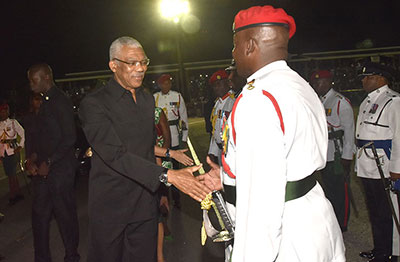 preserve the 'free state', establish a 'green state' and create a 'cohesive state'.
In his Independence Day address themed 'Diversity and Destiny', the Guyanese leader stressed the need to recommit to social cohesion by learning to accept and respect each citizen's values and beliefs as well as to share "the common space we call our homeland." He noted that Independence Day celebrates the unique combination of people who came to Guyana: the Africans, Chinese, Indians and Portuguese, who with the Amerindians have contributed to the "creation of a multi-racial and multi-religious state."
"The 'free state' is one that is free from discrimination; it is one that is built on the basis of respect for cultural diversity, political inclusivity and social equality. The 'free state' recognises our common and complex heritage. It reminds us of Chinese Arrival Day, celebrated on 12th January; of Portuguese Arrival Day, celebrated on 3rd May; of Indian Arrival Day, celebrated on 5th May; of African Emancipation Day, celebrated on 1st August and of Indigenous Heritage Month, observed throughout September," the President said.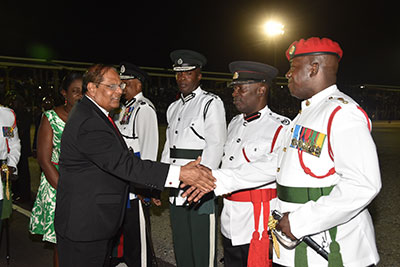 He noted too that the notion of a 'free state' "recommits us to dismantling the divisions of geography," while adding that disparities between the hinterland and coastland and rural and urban communities, must be eliminated so that no group feels excluded. The Head-of-State made it clear that a cohesive state constructs a multi-cultural society which creates conditions for diverse peoples to co-exist.
"Society needs to be strengthened in each occupational sector, in each geographical region, in each community and in each social stratum. The 'cohesive state' is not a political expedient. It can be realised only by respecting the differences and the diversity of society and by the removal of anger, hatred, ignorance and poverty. It can be created by mutual respect for each other's cultural and religious differences," said President Granger.
Additionally, he said the country's national tapestry is stronger because it is weaved "from our separate, but sturdy, strands. It is more resilient because it represents and reflects the talents of different groups."
"Guyanese, Independence bequeathed to us a state through which we became heirs of a magnificent patrimony. Guyana is a beautiful, blissful and bountiful country that is becoming a 'green state'."
Meanwhile, President Granger noted that the concept of the 'green state' is a natural product of our "verdant and luxuriant environment"- the country's ecosystems – our coastland, hinterland, highlands, islands, wetlands, grasslands, lakes, rivers, rainforests and waterfalls – are our birthright.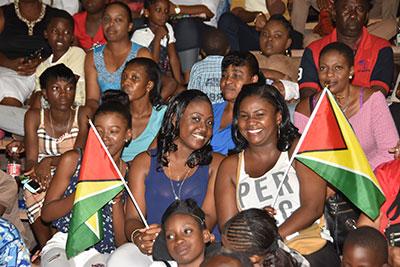 He noted too that the country's bio-diversity represents an "endowment of our ancestors, the patrimony of all Guyanese and the bequest we hold in trust for posterity." The 'green state' he noted can flourish and furnish a 'good life' for future generations to engendering a spirit of shared social responsibility.
"The 'green state' must embody a common commitment to the environment that arises from our unique, shared patrimony and that will lead to a prosperous future," said President Granger, who extended fraternal congratulations to all Guyanese.
President Granger reminded the gathering that the achievement of Independence on May 26, 1966 represents a moment in history when after 350 years of Dutch and British colonization, we abolished foreign rule. The birth of a new nation also represented a new life, with the hope of equality and the eradication of poverty.
It was then that Guyana adopted its own constitution and erected institutions to govern it and guarantee its freedom.