–Guyana decides tonight @ the Marriott
TONIGHT'S the night people!
It's the moment of reckoning for the ten young ladies vying to be Guyana's next representative at the Miss India Worldwide Pageant later this year.
And it's all going down at the Marriott Hotel from 19:00hrs.
With all the advertising and promoting, the buzz has really been growing for this pageant. The ten young ladies have been officially introduced since last month, so many have already gotten a chance to vet them, and in true Guyanese style, have already begun to start judging before the competition even really gets started. And, my oh my! Have some of the opinions been brutal!
They will each go through the opening introduction, evening gown, talent, and Indian wear segments, before the top five are selected and endure that terrifying final question.
With no outgoing queen (Last year's queen was disqualified for misconduct, remember!), the new queen will be crowned by none other than the Miss India Worldwide 2016 queen herself, Karina Kohli, who has already arrived in Guyana ahead of tonight's showdown.
Many patrons attend these pageants already knowing who they're rooting for, so, regardless of who wins, tonight will probably see a lot of after buzz about the winner.
So, whoever she is, the new queen better brace herself for it!
But, in the meantime, all of these young ladies are going to have to push through all of that tonight; rise above the negative and show which one of them has what it takes to be the last lady standing when the dust settles.
So, without further ado, Guyana, The Buzz refreshes you on the top ten ladies going for the crown tonight!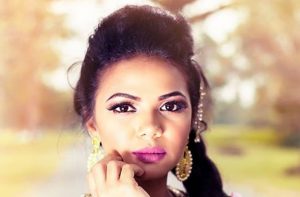 DELEGATE 1: Cynthia Dookie, 23
Ms. Dookie has always admired pageants, and finds it all really, really amazing! She says she's self-driven, very, very courageous, and a welcoming person (not to mention a devoted bathroom singer).
Being self-motivated and independent is her greatest accomplishment. Whether she wins or not, she wants to leave an everlasting impression on everyone she meets.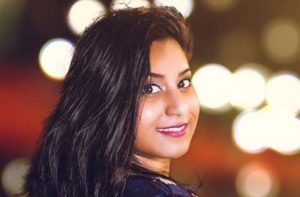 DELEGATE 2: Sangeeta Bahadur, 25
A marketing and communications coordinator, Sangeeta says she's pretty down-to-earth and simple. She loves to let out her inner child, kid around, and do impressions.
When she's not off being busy, she likes to catch up on her snooze.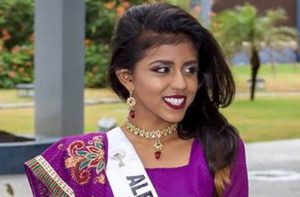 DELEGATE 3: Alecia Jiwanram, 20
An aspiring diplomat, Alecia is currently pursuing a degree in International Relations at the University of Guyana. She loves to sing, swim, and cook.
She sees herself as being a great facilitator and a remarkably kind-hearted person.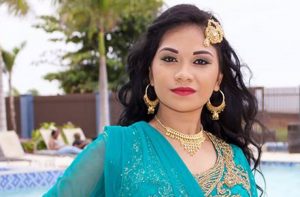 DELEGATE 4: Shoshanna Ramdeen, 20
This aspiring doctor describes herself as a very dedicated person who works well under pressure, and is very determined when she wants something. She loves getting dressed up and taking selfies! She's also big on family.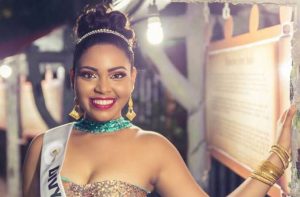 DELEGATE 5: Divya Singh, 18
This West Coast girl wants to be an Analytical Chemist. A proud blood doner, her leisure activities include travelling and challenging new opportunities. But the thing she enjoys the most is caring for children, as she has a strong belief in empowering young minds.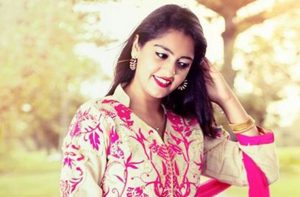 DELEGATE 6: Karishma Makwana, 20
This shy, trilingual young lady loves playing badminton, ground tennis and throwball. Her ambition is to make a difference in the lives of others who have disabilities. She strongly believes each and every person has equal rights, and is looking forward to making a positive impact on the lives of autistic children.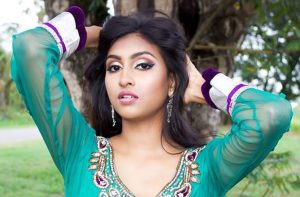 DELEGATE 7: Kuldavie Samantha Chunilall, 20
Kuldavie describes herself as an open minded, passionate person who enjoys the simple things in life, and loves a good adventure.
She believes her participation in this pageant will open opportunities for her to influence persons in a positive manner, and to travel the world and represent Guyana.
DELEGATE 8: Rajnie Shiwpal, 23
This former St Joseph High girl is a professional kathak dancer, classical singer and senior dancer for the Jewan Ka Nritya. Better known as Mandy, through her business, "The Make Up Shop by Mandy", Rajnie believes that the true essence of beauty does not only refer to the physical appearance but also to the personality of an individual.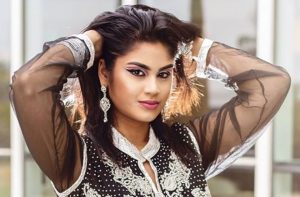 DELEGATE 9: Sarah Rajkaran, 18
A young aspiring entrepreneur, Sarah likes giving, has worked with orphanages before, and hopes being a part of the pageant will open up more opportunities to continue her work with orphanages and schools, particularly advocating her platform.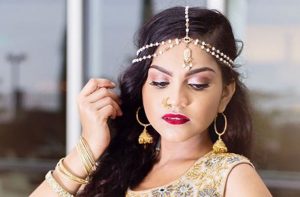 DELEGATE 10: Ash Ramnauth, 21
An aspiring medical doctor, this former Miss World Guyana finalist and 2016 Top Model winner said she entered pageantry because she felt the need to be an inspiration for young women and children in society.
Apart from modelling and pageantry, she also enjoys dancing and interacting with family and friends.