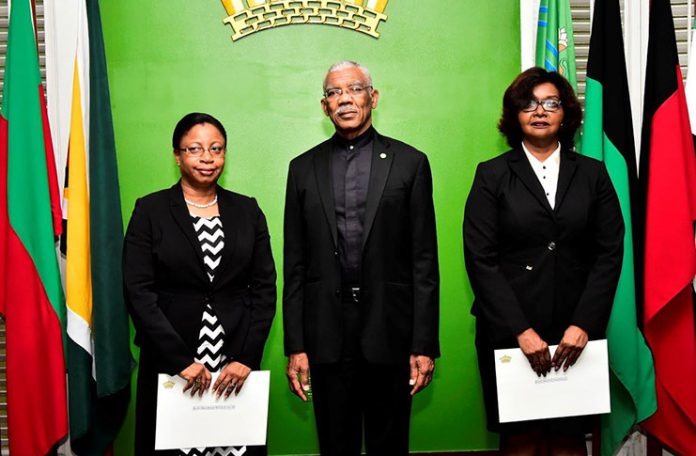 By Zena Henry
THE WAY has been cleared for sitting of the Court of Appeal to resume now that two Judges, Chief Justice Roxanne George-Wiltshire and High Court Judge,Dawn Gregory have been sworn in as Appeal Court judges on Wednesday.
They were sworn in at a simple ceremony attended by Prime Minister Moses Nagamootoo and Minister of State,Joseph Harmon,among other important guests at the President's official residence, State House.
The swearing-in of the judges is fulfilment of a commitment made by President Granger.
"This installation ceremony of judges is an affirmation of the government's commitment to ensuring a judicial system that reflects the values of independence, impartiality and integrity," the President said.
He noted that the Executive branch of government has no interest in interfering in the work of the Judiciary, but seeks its preservation,"which is unbiased, unblemished and unmindful of personal prejudices".
"The Executive branch of Government also has no interest in interfering in the adjudicatory role of the Judiciary," the President added.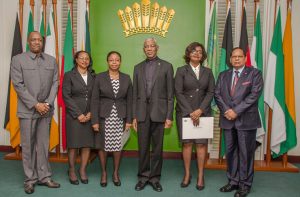 He said the Executive has taken steps to ensure the Judiciary does not feel beholden to the Government and the enactment of the Fiscal Management and Accountability (Amendment) Act of 2015 provides for the first time financial autonomy of the Judiciary in accordance with the Constitution being one such step.
President Granger said the Government will continue to respect the authority and dignity of the Judiciary whose efficiency relies on there being a full complement of judges and magistrates.
He said Government will also continue to support efforts of the JSC in ensuring vacancies are filled.
The head of state posited that the Constitution empowers the JSC "…to make appointments… and to remove and to exercise disciplinary control… over certain judicial and legal officers."
The Commission is expected therefore to be a fearless custodian of the highest standards of judges' personal conduct and is obliged to ensure that its recommendations for appointments will be made on the bases of clearly defined criteria applied in assessing the appropriateness of appointees.
The President also mentioned that the JSC is aware that an ethically compromised Judiciary can cripple the institutional mechanisms established by the legislative branch and enforced by the Executive arm of Government.
Judicial independence is essential to ensure the integrity of the rule of law.
Judicial independence means the Judiciary must be protected from both private and partisan interests, such as from persons or pressure groups, and from the influence and control of the other branches of Government, the President said.
He noted that judicial officers must demonstrate the highest standards of impartiality. They must be rigorous in their research, conscientious in consideration of matters brought before them and cogent in their judgements.
The judicature is fundamental to good governance because it protects people's rights and prevents the emergence of autocracy, President Granger noted.