Minister of Social Protection, Amna Ally participated in "The Deen Intensive Program: Peace, Love, Harmony and Tolerance" held at the Central Islamic Organisation of Guyana (CIOG) Headquarters, Woolford Avenue on Saturday, April 15.
Minister Ally conveyed greetings from President David Granger to the sheiks, Sh. Moeenul Hack, Sh. Ahmad Dabbang, Sh. Abdul Aleem Rahim and Sh. Mustafa Kanikir (representatives from Guyana, Trinidad, Jamaica and the UK) and other participants of the seminar.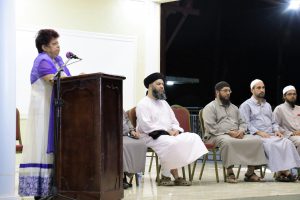 The Minister congratulated the CIOG on this initiative which saw participation from all three counties of Guyana. This initiative, which plays an important role in realizing social cohesion in Guyana, is close to the heart of Minister Ally; since it was once her portfolio in the Ministry of Social Cohesion.
Minister Ally reminded them that for Guyana to realise its potential we must recognise the need for peace, love, harmony and tolerance. This activity will be ongoing for the next few days at the CIOG Headquarters – Woolford Avenue.