Captain Debbie Gouveia is more than just a pioneering pilot, she's a wife, a mother, and well known as 'the other half' of the husband-and-wife dual ownership of the prestigious Roraima Airways, which she shares with her husband Captain Gerry Gouveia. In the aviation industry, primarily in the case of pilots, Guyana has come a long way since the days of Lucille Golas, the first female private pilot to fly in Guyana's airspace, though still a minority women are quickly closing in on that gap.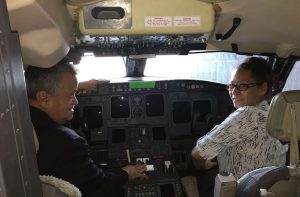 Dawsey left a legacy that many women after her were able to continue, Debbie, as she is fondly known, was one of those who happily picked up the baton and continued the race, continues to look forward to seeing other women take up the mantle.
"The aviation industry is more than pilots. There is certainly much scope for women to find opportunities in the industry. It would be great to see more women develop an aptitude for the disciplines which would provide for them making greater use of the opportunities in the aviation sector," is what Debbie is looking forward to most.
Guyana's first female aircraft pilot to fly the jungles of Guyana as a commercial airline captain, Debbie, in her own rights, is also pioneer of the industry. She helped to break down some of the bias and prejudice that persons had towards female fliers in her time.
"There were times when I encountered men and women who demonstrated a reluctance to fly as my passenger," Debbie points out.
"But at the end of every flight, everyone was high in praise for the professional and comfortable manner in which the flight was conducted. I just love being of service to people and being able to fly people safely from one destination to another is perhaps what I love most about being a pilot."
She loves how society has progressed in developing respect for women, but reminded that women must also remember to put forth characters worth respecting.
"I would say there has been immense change in the way women are regarded. Some of this change is positive and some negative. I think it important that we women do some introspection and analysis of our own conduct, ask ourselves some hard questions and answer them honestly," she reflected.
"On the occasion of International Women's Day I would like to salute the women of Guyana, especially our mothers who often sacrifice so that their children could enjoy a good quality of life, a good education. I also would want to encourage our young women to uphold the highest moral standards, be disciplined, think big for the sky is the limit and do not allow anyone to hold you back from achieving your dreams."
Debbie is the embodiment of this year's International Women's Day theme: Be Bold for Change.
"I think my personal growth and development over the years is testimony to my commitment to accept change and to adapt to it. I think change is necessary as we progress in life." She says.