SUGAR workers from the Wales and the East Demerara sugar estates on Thursday picketed outside the Ministry of the Presidency, while calling on the authorities to address severance payment as well as the proposed closure of two estates.
The midday protest attracted sugar workers from Wales as well as the Enmore and La Bonne Intention (LBI) estates.
President of the Guyana Agricultural and General Workers Union (GAWU), Komal Chand, who joined several dozen sugar workers from the combined estates, told Guyana Chronicle that the Wales Estate workers which include cane cutters and cane transport employees, are calling on the Government and the management of the Guyana Sugar Corporation (GuySuCo) to discharge of their legal obligations as regards severance pay following the closure of the Wales Estate.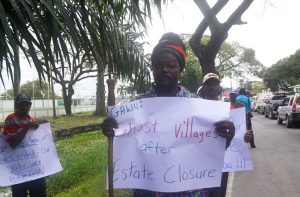 "The protest is about the denial of severance pay to about 350 workers from Wales," Chand said.
While some workers have been paid, others are still awaiting their payment. "This is a violation of the law," Chand said.
He said that the sugar corporation is demanding that workers from Wales turn out for work at Uitvlugt, a move which the union and workers find unfavourable.
As it relates to the Enmore and LBI Estates employees, Chand said the workers at those two estates are worried about their future since Government has not denied that the two estates in question are planned for closure. He said an estimated 2000 workers will be affected if that decision is made.
He said GAWU is of the opinion that the Government plans to approach Parliament to "confirm" the closure of the Rose Hall and Enmore estates as well as the "sell-out" of the contentious Skeldon Estate.
Chand noted that the protest action will continue.
"The workers are becoming desperate because they now have to struggle for their pay; they have to demand, they have to protest."
In 2016, Cabinet took the decision at its last sitting of the year, to have the consultations begin at the soonest possible time to ensure that the best interest of all stakeholders will be considered.
While the Government will ultimately have to make a decision on the way forward for the industry, it wanted to make sure that the requisite stakeholders were consulted so that the best decision in the interest of all involved, could have been taken.
The outlook for Guyana's sugar industry continues to looks grim. In January this year, GuySuCo officials declared that funds injected into sugar industry at this time will be funds "wasted."
The industry has received criticisms from all levels, including a report which was presented to the Parliamentary Economic Services Committee in January by GuySuCo's top officials, Chairman, Clive Thomas and Chief Executive Officer (CEO), Errol Hanoman.
With a debt of $77.3B and consecutive losses, officials have advised that the industry is one not worth investing in unless plans for the reorganisation, restructuring and diversification of the industry are present.