DILLON Mahadeo proved once again that he is the fittest man locally while Semonica Duke outshone the pack as the Kares Engineering Fitness Challenge concluded on Sunday.Mahadeo, the defending champion, produced an epic performance over the five-stage event amassing 462 points and in the process, demoted Charlie Walker to second (410) and Anis Ade Thomas to third with 397 points.
The athlete, who finished second in the inaugural event found little trouble in carting off the winner's trophy and the $250 000 first prize. $150 000 went to Walker and Ade Thomas pocketed $100 000.
Later, he joined with the In Cross Fit 592 team to lead them to the overall team championship with 1 268 points ahead of Elite Systems who finished second on 1 250.
Fitness Paradise, led by Paul Meusa and Adonis, were third on 1 220 followed by GDF (1 149) and Out Of Towners (1 007).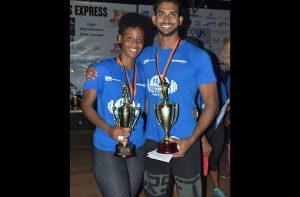 In the women's category, Semonica Duke also of Cross Fit 592 took the top spot. Lynch (490 points) defeated Delice Adonis (470) of Fitness Paradise in a close battle for the honours.
Meanwhile former St. Stanislaus student Duke, overcame the challenges of Deice Adonis of Fitness Paradise (470), who finished second and Christina Rahman of Genesis Fitness Express, third with 435 points.
Apart from the competition, there was the Scotiabank celebrity event which featured several prominent enthusiasts. Fans also received several giveaways.
The event was also sponsored by Fitness Express, Ansa McAl, COURTS Guyana Inc, Wings Transportation Services, Windjammer and Baganara Resort.