PERSONS of Guyanese extract are now unemployed and businesses counting their losses after a fire of unknown origin ravaged a row of buildings on Liberty Avenue in Queens, New York.
According to the New York Daily News, more than 200 firefighters responded to battle the blaze, which quickly spread from one store to a dozen two-storey apartments.
The daily has also quoted the Fire Department of the City of New York (FDNY) as saying that "the seven-alarm fire started just before 11pm (23:00hrs) Saturday in a store on the first floor of a row of two-storey buildings on Liberty Ave. near 111th St. in Richmond Hill."
Although reports say no lives were lost, the fire, which, according to one news source, took "four hours" to extinguish, still took a toll in some ways on those who occupied the buildings for either business or dwelling purposes.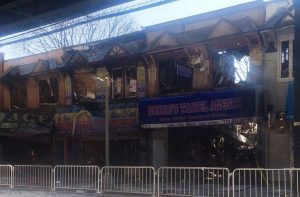 One reliable source has informed the Guyana Chronicle that the blaze took out several businesses and apartments, some of which are reportedly owned or rented by persons with close ties to Guyana, who reside in New York.
Some of the businesses which were wiped out by the fire include, Ace Caribbean Market, Ramo Nauth Jewellers and the ever-popular Bobbie's Travel Agency.
The source said that those places were not only owned by persons of Guyanese origin but also employed a number of persons, many of whom share close ties to Guyana.
Bobbie's Travel Agency was described as a service which Guyanese in Queens frequently used to book their flights and make their other travel arrangements.
According to the Agency's website, it was established in 2001, and is owned and managed by a husband-and-wife team with a combined experience of over 46 years in the travel industry.
The source told the Guyana Chronicle that persons, who appeared to be occupants of some of the buildings, were seen yesterday in tears, staring at what's left after the fire.
The Guyana Chronicle was also informed that police and other officials have barricaded the area and are conducting their investigations.
So far, reports coming out of the international media indicate that the source of the fire is yet to be determined.