The sport is popular in the region; many would congregate at the cricket grounds to view the teams in action and in recent years the tradition has changed. While cricket is considered "the gentleman's game", it is the women who compete for the bragging rights of the best cricket team in Mabaruma.Over the past decade, cricket has silently eclipsed football as the more frequently played game in the sub-region. At the moment there are eight cricket teams which compete against each other at Mabaruma in matches played all year round.
The teams are from the villages of Kumaka , Khan Hills , White Creek ,Wauna , Mabaruma , Koberimo Hill and Kamwatta .
Every second Sunday of each month , the teams would compete against each other and the money to enter the competition is usually used as the winning prize while donations from the business community in the form of trophies and other prizes also adds to the prizes. On some occasions, the women play for the love of the game and such friendly matches are seen as playing in the true spirit of the game.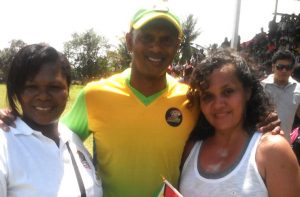 "We women can play anything, any game just as the males ", said Louina Garraway, the captain of the Kumaka team, called the "Kumaka Angels". She said that she plays the game to motivate herself and other women while she also views it as a means of bringing people together." It also keeps you fit", she said.
Susan Boyer, a mother of four , plays in almost each game . She said that the teams would raise funds for each competition from their own pockets. "I see it as a good form of exercise and a weekend activity to keep the family occupied ", she said.
She noted that there are many talented women in the town who can play the sport, noting that this is usually seen during the more competitive match-ups with the teams from Moruca and other parts of the North West District.
Mabaruma Settlement Ground is considered the most developed in the Mabaruma sub-region and as such, most of the cricket matches are played there. The ground boasts upgraded washroom facilities, a high-maintenance sward and the ground is also outfitted with floodlights, the latter considered one of the more inviting features which have brought persons to the ground in recent years.
Early in 2016 , West Indies great Shivnarine Chanderpaul led a cadre of top national male and female players to Mabaruma to compete in an exhibition match. The event was considered one of the highlights in the cricket history of the area, one which provided a boost to the competitive nature of the game at Mabaruma , at least in the eyes of the female cricketers.