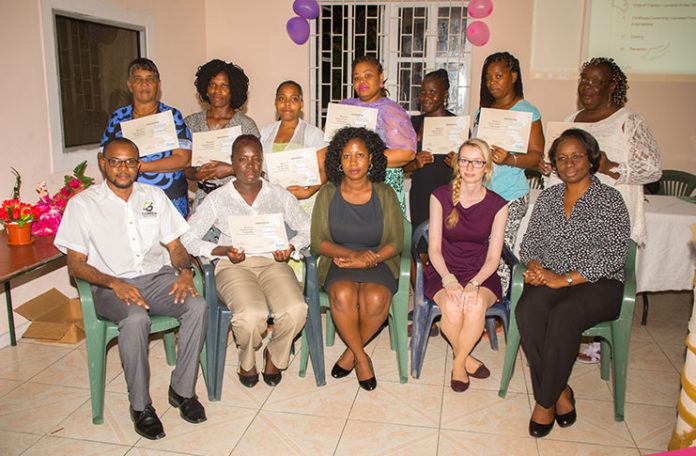 "THEY ARE hungry, they're thirsty for something and they just don't need to be in Albouystown stagnated, they need to move on."
With this simple observation, Albouystown resident Kim Morgan, unselfish in her bid for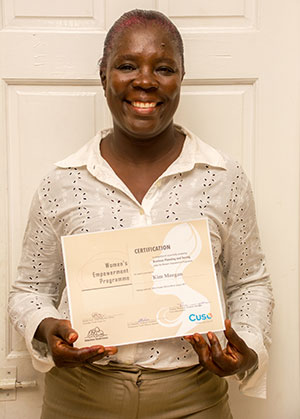 development, gathered a group of single parent women and formed 'Women on the Move' – an organization aggressively working to lift the standards of living of the Georgetown community through empowerment and skills training.
Nine of the 35 members of the organization recently graduated with Business Empowerment certificates from international organizations CUSO International and Volunteer Youth Corps (VYC) at the mosque in Albouystown, and each of them now has a business plan to take them to their next level.
Kim Morgan , chairman of 'Women on the Move' told Pepperpot Magazine she was inspired to bring the women together while as a volunteer with the Civil Defense Commission managing a shelter in Albouystown during a flood in July 2015. She spoke to the women and understood that they needed help and a spirited effort for motivation.
"The status of the women is very low in the community, so you just don't need to have them being at home when they can help themselves. So I decided to have some classes with them. Kinda having them bringing out everything locked down in their minds all the while. If we have any issue we would call the Ministry of Social Protection whose representative will come in and see how much counseling or public assistance is needed," she explained.
She said the majority of Albouystown women were single parents and dropped out of school as a result of teenage pregnancy or poverty.
"So you can understand the plight of the women in the 'forgotten community.' The children are coming home with homework and mommy don't know anything because of her status. You just can't focus on the children of the community, you have mommy there so you have to take her out from the home so that she can be independent," she explained.
The group meets every Monday afternoon for discussions and skills training, and to plan activities. Classes in cake decorating, leather craft, fashion designing, first aid, curtain-making, drapery, floral arrangements, and information technology are being held and the women are now going through the processes to make attractive their business plans and secure loans.
Organisations such as Red Cross, Community Development Committee (CDC), Disaster Risk Management and the Ministry of Social Protection have been very supportive to their efforts and some had even joined and distributed free spectacles to children in Albouystown.
"I myself I used to do SBAs home typing but due to the flood my system down. And then running in the program with the women now, I'm like the mother of the women, so I'm starting back my business too which is '4Ts' which is typing, SBAs, stationary corner," Morgan told Sunday Chronicle.
Registration of the group is soon to be done at the Small Business Bureau and they are hoping to be recipients of a $300,000 small business grant.
And even as five of the women received small grants from the Ministry of Social Protection to start businesses, she said, "We're just praying that at least three women can get grants from there (Small Business Bureau)."
Women on the Move has brought hope and confidence in family life in Albouystown with the single parent women who once did nothing, becoming empowered and independent and making a difference in the lives of their children.
"These young women would have been at home doing nothing, so it kinda change them telling them they don't just want to be at home sitting on the corner or on the steps looking out. We need to do something for ourselves and nobody is coming to say 'we can help you,' she noted.
With the help too of 'A' Division Commander Clifton Hicken, the women said they could not have asked for a more supportive commander as he would supply certain needs of the group, and has allowed them access to a computer to do their documentation. The group is aiming to establish the first Day Care Center in Albouystown.
"We're not registered as yet but we still have a brand. Without the help of the councilors of the community we're doing it as women, trying to make the women in the area feel better because they are hungry."
Treasurer of the group Donna Plass said the group's goal was to push for the development of the women.
"As we mobilize them and they come forward and they say what they would like to do, Ms. Kim will get into the areas and get it to them."
Another member, Lorraine Nurse, said she teaches the rest of the women craft even while benefiting from skills training and other empowerment programs. She now owns a stall on Regent Street where she retails her products.
"I took the program because I need to get certain things straightened out and understand the business," she said.
Volunteer Youth Corp (VYC) executive Goldie Scott said the international organization was working beyond training and had also established linkages to micro-financing institutions after the women would have submitted their individual business proposals.
"Our goal is to link them to micro-financing institutions such as Small Business Bureau and we have basically reviewed the business plans and improve on them. We want to take those business plans to IPED or Small Business Bureau so they can access financing."
She said that though it might not be a large sum of cash it could go a long way as an investment. VYC was working on quickly getting the businesses started and the Small Business Bureau will host training and advisory meetings in areas of financial management and small business management, among other areas.
"They must be able to not only have linkage, but access, so complete that business plan and we can go on to any other interest that both groups can have on our side and their side," Scott said.
Scott explained that VYC intervened in the community with an interest in the development of children and youth through access to quality social and economic support.
"But where we have weaved women in is because of our need to improve the quality of families. We are working with children and youth, when they go back home the economic condition is still the same, so you really haven't made the sort of change that you wanna see. That is why the last five years they have diversified their focus to include women," she said.