The Guyana Post Office Corporation (GPOC), in collaboration with PAKYA, a Miami-based Freight Forwarding Company, on Thursday officially launched its 'Online Mailbox and Delivery' service, under the trade mark 'Swift Shipping', with its slogan being 'Bringing it Home'. The launch was conducted in the foyer of the GPO Building and addressed by Minister of Public Telecommunication, Catherine Hughes; President of PAKYA, Ms. Martha Ramos; Post Master General; Karen Brown , with an introduction to Swift Shipping being done by the International Air Mail Management (IMAU) Manager, Tiffani Ferrell.
Brown said that "Swift Shipping' is expected to capitalise on the corporation's geographical strength and boost its revenue.
With the decline of mail volumes there is stiff competition in the shipping sector, adding that there are tremendous opportunities for postal operators to support e-commerce. And with international postage of packages and small parcels having seen rapid growth, the GPOC is poised to come on stream as a flexible partner. She outlined that at the Universal Postal Union an e-commerce forum was held in 2014 in Switzerland, at which the potential for e-commerce in the postal industry was highlighted.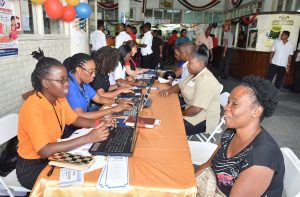 Browne added that the post is among the largest providers of delivery service in the world, and a major player in the delivery of e-commerce transactions worldwide. Further than that, delivery was one of the biggest problems faced by e-commerce players, and that customers require a reliable, affordable and flexible service. Hence the GPOC responded to the challenge, partnering with PAKYA.
"Swift Shipping will offer online shoppers a free mailbox service at its warehouse accommodated by PAKYA, Miami Florida, USA, and customers will be given the option to consolidate their packages for shipment to Guyana. Shipments will be received once weekly and eventually twice per week as the volumes increase."
Cost
Meanwhile, the PMG said that Swift Shipping is mandated to function within the pillars of affordability, reliability and flexibility. And when it comes to cost, packages can be shipped to Guyana via Swift Shipping for only US $6.25 for the first pound and US$3.00 for each additional pound.
Shipped packages can be uplifted in Georgetown, Mahaicony, Weldaad, Fort Wellington, Rosignol, New Amsterdam, Skeldon, Mc Kenzie, Essequibo, Acquero, Mabaruma, Matthew's Ridge and Port Kaituma.
Customers can get registered for the free online mailbox service by emailing ecommerce@guyposy.gy or customercare@guypost.gy or by calling phone number: 226-3127
President of PAKYA, Ms Martha Ramos, congratulating the Guyana team tasked with seeing the eventual rolling out of the service and referred to them as 'fantastic' having put a lot into it to bring the service to the people of Guyana, adding "I am very comfortable that all the citizens of Guyana will be able to enjoy this service going forward."
"In Miami we have a major hub; we do pretty much all transportation logistics services. We've a fourth platform, servicing air, ocean, ground and warehousing services. We're fully licensed and are certified by the Federal Maritime Commission [to transport] via . We are also certified by the Transport Security Administration (TSA) which is a Division of the Homeland Security.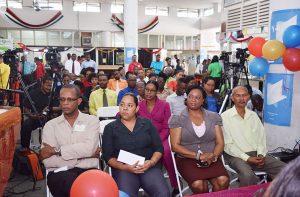 "We are experts in e-commerce and service about 40 flights per day, out of Miami throughout the world on a consistent basis, so we are servicing many of the countries of the Caribbean, Central America and South America. We work with many post offices as well as private sectors, so we have a lot of experience in handling the purchases. It's very easy to become a customer. You register on line. We give you your code and you can shop away and we will bring it home for you."
Minister Hughes expressed excitement, "The lives of most people in developed and developing countries are centred today on modern technology," she outlined. "We depend on smart phones, smart TV, computers and tablets that are equipped with intelligence that was in somebody's imagination fifteen years ago."
"She alluded to the emergence of smart houses, with smart refrigerators, smart stoves and smart T.Vs, all controlled by the owners' phones. By the same token, she said, today when the mail delivery person comes or brings a packet to the door, the occupant can speak to him or her from the supermarket, the office or wherever he or she is, and tell that person where to place that package.
In this regard, she expressed excitement over the fact that the Ministry of Public Telecommunication is responsible for bringing such a level of technology to Guyanese. She alluded to the wide field of ICT accessible locally and the flexibility it has to accommodate more and more new programmes, citing: new apps, wrapped up speeds and intelligent household supplies, and said that the ministry is working hard to provide an enabling environment in this area that e-commerce can thrive in.
Guyana, the minister said, is planning on putting systems in place that will allow for its participation in electronic commerce or e-trade, fully utilizing the special features available to do. Other options being looked at include the implementation of facilities and programmes with e-commerce and tele-medicine and truly interactive online public services for our citizens. The minister also cited great strides being made in the development of an online passport system and other initiatives.
"We are aiming to become a fully digitized society and a fully digitized government … and as soon as we complete the full expansion and upgrade of our fibre-optic e-network, we will have sufficient broad-band capacity and speed and Guyana will have a few smart houses," Minister Hughes projected.
"In the meantime, today's launch signals that we have joined the world e-trade network in a bigger way, since the development of online shopping has come into being, thereby ensuring that the GPOC moves ahead with its planned transformation to better serve our customers in this digital age," Minister Hughes concluded.