As the world advances rapidly, becoming more integrated technologically, Guyanese entrepreneurs are urged to embrace Information and Communications Technology (ICT).
This was the charge of Minister of Business, Dominic Gaskin, in his speech at the first Digital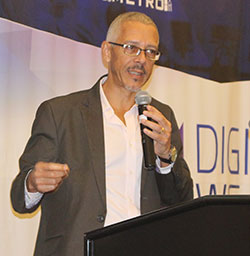 Wealth Creation Summit on Saturday at the Marriott Hotel.
The event was hosted by the Masterclass Institute.
According to Rosh Khan, Founder/Director of Masterclass Institute, the summit is the brainchild of the institute which is a business training organisation.
It came into being after Khan realised that more Guyanese wanted to leverage opportunities through the Internet but did not know how to.
As a result, the concept of a Digital Summit was arrived at to give people insights on digital profits, and how they could go from "I have an idea" to making that idea a reality online.
"Today is really about walking people through those specific steps; what do you do, what are the tool and resources, and how you get it done," he said.
According to Minister Gaskin, Guyanese entrepreneurs are not participating in or are not participating enough in online marketing.
He shared his vision for Guyana, which is to see more Guyanese entrepreneurs, tapping into this new marketing tool to market themselves and their businesses.
"I'd like to see young Guyanese integrated more comfortably into the global network; that is, using digital connectivity as a platform for doing business. The ability to communicate online with the entire world is the new reality," he said.
The minister pointed out that new businesses have evolved, and most of them operate entirely online.
"A whole new range of activities have been born. Digital technology is certainly driving the global economy. And in combination with entrepreneurship, is brining prosperity to individuals, to businesses and to countries and regions. It has transformed the way we do things and no country will be spared from the advances of modern technology; not even Guyana," the minister added.

NATIONAL ASSETS
As a result, he noted that Guyana must ensure that its entrepreneurs are valued and treated as national assets; to be cultivated and motivated to the greatest possible extent.
"Nothing would please me more than to see the emergence of a new breed of entrepreneurs take up the challenges and to enjoy the rewards of growth and success in these export-oriented business activities," he told the few hundred participants on Saturday.
He also suggested that Guyana's vision going forward as a nation must be to develop its local industries.
"Guyana is yet to make its mark as a regional economic powerhouse. But Guyana has to become the number one regional source for agro-products; and for gold and gold products and wood and wood products. We also have to become regionally renowned for our unique tourism product. We ourselves, have to create that green paradise we dream of."
Minister of Public Telecommunication, Cathy Hughes, who also addressed the event, believes that Guyana's ICT landscape can be transformed.
"We can transform Guyana's ICT landscape; we will," she said, adding that this is exactly where the country should be heading, to arrive at the technology driven Guyanese economy that her Ministry is in the process of creating.
KNOWLEDGE-BASED SOCIETY
Minister Hughes said that mandate at the Ministry is to create a knowledge-based ICT proficient society, and this involves several steps, including bridging the gap in the quality of education and professional training between the coast and hinterland areas.
Additionally, she noted that it calls for facilitating awareness and training to ensure youths, parents, and grandparents become Internet savvy.
"Until we start to improve the level of connectivity each and every citizen in Guyana has, we're not going to get anywhere. We also have to encourage and facilitate the emergence of new businesses that utilise the numerous facets of the web to produce and market their products and services," the Telecommunications Minister said.
She also boasted that within the last eight months, the country has been able to jump some of the challenging hurdles which have been created due to advances in technology.
She specifically referenced the fact that persons in the interior are now able to sell their products online.
Several other speakers were also featured on the programme, including Rosh Khan and Geotechvision's Valarie Grant. The programme was punctuated with interactive activities geared towards providing an opportunity for participants to network.
Several major businesses and agencies collaborated with the institute to support the inaugural summit. Some of these included the Institute of Private Enterprise Development (IPED), Scotia Bank, the Small Business Bureau with the Ministry of Business, and Metro Office and Computer Supplies, and others.