Giving a passionate delivery of her song "Where the Innocence Gone" on Saturday evening, Essequibian Tshanna Cort once again rose to the occasion as she championed this year's Junior Calypso Monarch competition to successfully defend her title against the eight other competitors.The Cliff Anderson Sports Hall (CASH) rocked with the screams of celebrations as Cort was announced the winner. Her performance earlier in the evening had been met with resounding applause.
"It's an overwhelming feeling," said a joyful Cort following the announcement of her win. She was able to garner 272 out of the maximum 300 points, to take the title and the $350,000 grand prize .
Paul "Chris P" Clarke, whose song "2017 Budget" drew quite a few laughs from the sizeable crowd and that was enough to see him hold the second place spot with 245 points and a $200,000 cash prize . He also copped the "The Most Promising Junior" award which carried a $75,000 cash prize.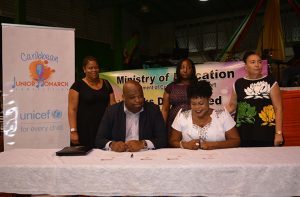 Third place saw a tie, and with 227 points apiece, Ryan Jagnarine and Niomi Alsopp both walked away with the $125,000 prize.
Jagnarine sang "Simply the Best", which hinted at the exploits of a pope whose scandal made headlines last year, while Alsopp's song about "Gun Crime". Her song was also well received.
Meanwhile, Cort is now set to represent Guyana in Barbados at the upcoming inaugural Caribbean Junior Monarch Competition, which set to be a part of this year CARIFESTA celebrations. She will compete with 11 other competitors from across the Caribbean.
Immediately following her win, she signed a contract guaranteeing her participation. Signing on behalf of the coordinators of the event was Chad Blackman, Legal and Regulatory Affairs Advisor.