… Implementation of legislation will be only way out – Ramnauth
THE work of the Guyana Horse Racing Authority (GHRA) has been put on hold due to the lack of a critical piece of legislation that will legitimise its operations. This is according to acting secretary of the GHRA, Chattergoon Ramnauth.Ramnauth said the proper management of the authority remains in limbo, since executive members have not met to discuss GHRA's business for almost a year, since its president Vickram Ouditt demitted office in February last year following the expiration of his term.
Ouditt was elected president of the horse racing body at the Annual General Meeting on February 9, 2014 and according to the GHRA, new elections are due every year.
Ramnauth is of the opinion that the GHRA is non-functional at this time because no meetings were held or was there any form of discussion; oral or written ever since Ouditt left.
He, however, maintained that the implementation of the legislation will be the only way out of the dilemma the authority finds itself.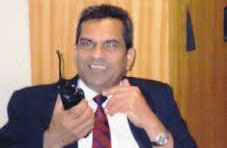 Dubbed the 'Sport of Kings', horse racing, since its resuscitation locally, has been operating under a legal document that was registered under the Miscellaneous Deeds Act.
But back in 2014, a key step to regularise the sport was taken when the-then Legal Adviser to the Guyana Horse Racing Authority (GHRA), Rajendra Poonai, handed over a draft legislation on the sport to then Sports Minister Dr Frank Anthony.
Nothing much was done by the previous administration with regard to the implementation of the legislation.
However, the present Government cannot escape their fair share of criticism since a copy of a horse racing legislation has been with the government for some time now.
In fact, an official from the GHRA has confirmed that the copy was handed over to the National Sport Commission late 2015.
Assistant Director of Sport, Brian Smith, confirmed last month that NSC had indeed received the document which was sent to the Attorney General Chambers.
But when contacted yesterday, the Attorney General Chambers remained sceptical about the status of the document.
The draft Guyana Horse Racing Authority Act, which will allow the sport to run more effectively and to deal with violators, includes: increasing the membership of the Racing Authority from nine to 15; including the Bush Lot United Turf Club as a member of the GHRA and implementing a two-year term for members of the Authority.
The legislation which was championed by former GHRA president Justice Cecil Kennard will also give the GHRA the power to schedule race dates for race meetings in the event that a club is unable to run off a race meeting.