-probe unearths major weaknesses in drugs supply to NA Hospital drug bond
Against the background of a damning report that exposed several shortcomings in the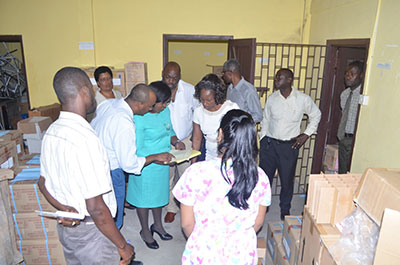 procurement system for medical drugs, Minister within the ministry of Public Health, Dr. Karen Cummings, uncovered major discrepancies in the supply to the New Amsterdam drug bond during an impromptu visit to the facility on Tuesday.
Her visit was part of an ongoing investigation into reports of persistent drug shortages within the region. Cummings and Director of Regional Health Services, Dr. Kay Shako made the unscheduled visit to the New Amsterdam Drug Bond. These investigations were prompted by several letters in the press and complaints that have been brought to the Ministry of Public Health indicating that inadequate supply of drugs were being delivered to health facilities throughout Region Six, the Government Information Agency (GINA) reported.
According to GINA upon her visit to the bond, Minister Cummings found that a recent supply of drugs had been delivered to some facilities, despite that, there were still shortages. "In terms of our drugs, you know that is a big issue. We have made the news many times so we want to address that so all in all we want to ensure that as we deliver services in the region we are delivering health services more or less to the people and we would like that to be improved." Minister Cummings was quoted by GINA as saying.
The minister pointed out that there is currently an ongoing audit of the Materials Management Unit (MMU) and all other health facilities and drug bonds to ascertain the precise cause of countrywide drugs shortages and to have this issue addressed.
Combined Issued and Received Vouchers (CRIVS) that were sent to the MMU reflects significant dissimilarities in the amount of drugs and medical supplies requested, issued and delivered. This has pointed to mismanagement and negligence of the persons involved in the processes of procuring, checking off and delivery of stocks.
For example, Health Services Director, Region Six, Jevaughn Stevens said that the Region would request a certain amount of drugs but the MMU delivers short supplies without an explanation. "We had some challenges in 2016 and we're still having challenges with the MMU. On many occasions, critical items come back NIL from MMU. Even for last year, we budgeted $385M to purchase drugs and medical supplies, we would have sent back $320M to the ministry at the beginning of the year so as to pay MMU and send the regular supply of drugs. So we kept in the region $60M to assist in emergency purchases and also oxygen."
The Minister and the RHS director also questioned if drugs issued to the Region are verified before MMU personnel. This was recognised as one of the major areas of discrepancies in the drug delivery process. When the MMU issues drugs and medical supplies, these should be checked off and verified before delivery to the various Regions, and checked again before delivering to the various health facilities.
Minister Cummings added, "There are some discrepancies in terms of the distribution of drugs as it leaves the warehouse, that's Materials Management Unit in Diamond. We have realised that we need to give tax payers value for their money and so we have decided to come and check out the discrepancies. We have found that some of the drugs that were ordered sometimes it's different from what is issued and what has been received so we have made note of that and we are going to follow it up."
However, there were some positives that pleased the minister; the information that funds are not an issue for purchasing drugs, and medical supplies that the CRIVS sent to the MMU are efficiently completed which contributes to a faster processing time of these requisitions. Pharmacist at the New Amsterdam Drug Bond, Gregory Ceres, noted, "We have prepared an analysis report of a recent CRIV that we would have received from MMU. We are hoping that she (Minister) takes that report and verify it with MMU and once that report is verified, I think Minister will have the necessary information she needs to make the right decision so that drug management and drug distribution can, not only be improved in Region Six but across Guyana."
The Regional audits that are ongoing are expected to provide the Ministers of Public Health with the necessary information needed to decide on the way forward towards correcting all loopholes within the drug procurement, management and distribution system. Additionally, the minister visited the Region's Health Institute, which is the New Amsterdam Regional Hospital and was pleased to be informed that the number of persons seeking medical care at the facility was increased in 2016.Minister Cummings attributes this to the fact that persons are having much more confidence in the Public Health System.
She however pointed out that if there are so many persons relying on the system for adequate health care, sufficient drugs and medical supplies are necessary to save lives and render more persons healthy.