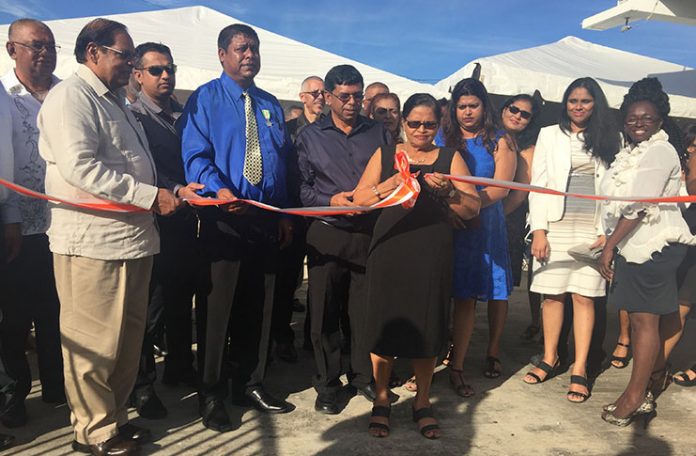 — NPIC becomes first major company to go 100 percent green
Nand Persaud International Communications (NPIC) of the Nand Persaud Group of Companies, on Friday commissioned a $110M solar facility, becoming the first major company in Guyana to go 100 percent solar.
The 220 KW solar plant powers the entire operations of NPIC's Call Centre which has the capacity to employ 500 representatives plus management and supervisory staff on a 24-hour shift basis.
The 12,000 square feet panels were sourced from the US and currently produces 1000 KW of power daily, more that what is required for the high-powered servers, computers, lighting and all other equipment that the company utilises.
The excess power produced is relayed to the Guyana Power and Light Company (GPL).
Speaking at the commissioning, Prime Minister Moses Nagamootoo congratulated the company directors as he hailed the investment as significant.
The principals of Nand Persaud Group of Companies moved from being simple rice harvesters to establishing one of the leading companies across Guyana and the Caribbean.
According to the Prime Minister, the investment is in keeping with the Government's vision for a green country and sets the pace for others to follow.
"Today, I want to congratulate the Nand Persaud Group of Companies for their innovation, vision and foresight and we hope that by 2025 to transition Guyana to renewable energy, to cheap energy, to clean energy."
Prime Minister Nagamootoo said in a bid to achieve this goal, the Government this year budgeted $250M to power Madhia, Bartica, Lethem, Maburama, and all areas earmarked to be towns, by solar panels and other sources of renewable energy.
With Guyana set to be among the largest oil-producing nations, Mr Nagamootoo said all traditional sources of energy must not be abandoned.
Business Minister Dominic Gaskin said for businesses to thrive, they have to be able to be innovative in combatting challenges of cost, of production, and noted that the Nand Persaud Group of Companies has been doing well in this regard.
The company has won numerous awards and praises for ventures undertaken, a testament to their commitment towards providing employment and opportunities for Guyanese, especially Berbicians.
The Norwegian Counsul Desmond Sears was also high in praise.
"The use of byproducts by Nand Persaud and Companies to power its operations instead of fossil fuel is a good example and testimony of the role companies can play in achieving a green economy in Guyana for the improvement of human wellbeing…"
COST EFFICIENT
NPIC Chief Executive Officer (CEO) Rajindra Persaud, said the company was always interested in green technology but moved to solar energy because the current market trends have made it a "cost efficient investment".
"Recently with the global rise for solar power has caused us to invest in solar technology, the cost for solar energy in the world has become very, very competitive, the technology has improved and has become cost efficient," he said.
Current market trends put solar usage at two per cent but that figure is expected to grow to 25 per cent in the next 10 years.
Persaud said Guyana should not be left behind and urged the Government and businesses to seriously think about it, noting that plans are afoot to partner with the company that installed the system to make it available to anyone in Guyana. Financing options could also be considered, he said.
The US$528,000 investment generates approximately 1000 KW of power per day, saving the company some $50,000 every day, making it very competitive and allowing the company to recover the investment within three to five years.
The company consumes some 70 per cent of the power it produces and the remainder goes to GPL.
GPL is currently getting this excess free of charge, since meters have been installed.
NPIC Managing Director Darren Ramdial said the company in the past 14 years has moved from strength to strength.
"Nand Persaud International Communications was founded in the year 2002; it commenced its operations with just 18 reps, one manager, one supervisor and an accountant.  We became the first company to commence business in the telemarketing/communications sector introducing this type of industry to Guyana. I am proud to say we still stand strong maintaining the lead with 14 plus years of experience, and staying current in the world of technology," he said.
He added: "People are critical to a company's success. I wish to first thank the management and staff for all the hard work that has helped to contribute to our success as a company.  And I also wish to thank everyone else who has in whatever way contributed to our growth."
The company has been the recipient of the Reed Business Information Gold Medal plaque and Quality Recognition Award in 2006, and is the first commercial establishment to go green in Guyana.
"We won the Guyana Manufacturing and Services Association (GMSA) Presidential Award – for Investment in Green Technology 2016 and the Caribbean Export Development Agency -Special Award for Excellence in Service Exports 2016," Persaud said.
Among the attendees at Friday's commissioning were Regional Chairman David Armogan and former Prime Minister Samuel Hinds.