…husband turns self in to police
A TWENTY-four-year old mother of one was brutally stabbed to death at her workplace on Wednesday, allegedly by her estranged husband, who is a trainee prison warden attached to the New Amsterdam Prison.
Lonnet Prince Nicholson was a hairdresser attached to the National Psychiatric Hospital in New Amsterdam, Berbice, and had just arrived at work when the suspect, Sheldon Prince, asked to speak with her just after 08:00hrs.
However, she refused and proceeded to walk away, when Prince allegedly pulled out a knife and stabbed her 11 times about the body in the presence of co-workers. After committing the brutal act, Prince reportedly fled through the eastern fence of the hospital and escaped.
His pants, with spattered blood stains, was found some distance away under the Canje Bridge. The 30-year-old later turned himself in at the Central Police station in the company of Attorney-at-Law, Mursuline Bacchus.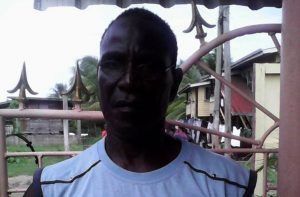 Restraining order against Prince
Lonnet and the suspect were married for five years and have a four-year-old daughter together; however, they were separated for the last two months, during which period she filed a restraining order against him, citing constant abuse.
Since then, it had become a pattern for her father, Michael Nicholson, or a brother to accompany the young lady to work.
According to the father, on Wednesday, while driving his daughter to work, he saw the suspect standing by the bus shed, which is a short distance from the Psychiatric Hospital, but he did not pay much heed.
"But Lonett say, 'look Sheldon,' and after I dropped her off, as she was exiting the car, she said, 'I wonder what he doing here'."
The father further noted, "I subsequently went home, and was in the midst of telling my wife that I saw Sheldon at the bus shed, that word came that Lonett was killed. We quickly joined the car and returned to the mental hospital. I went to the room where she worked as a hairdresser, and I saw blood spattered all over. I removed the sheet from my daughter's body and I saw several stab wounds about her body. She was already dead."
Five years of abuse
Recounting his daughter's five-year marriage, the father of five said it was one of abuse, as he noted that Magistrate Sherdel Isaacs Marcus had placed Prince on a one-year bond.
Additionally, Magistrate Alex Moore had also placed Prince him on a bond and issued a 50-foot restraining order and the duo were to proceed with their divorce.
"I did not agree to this marriage. As soon as she pass 16, he took her away, and when they came back he said he wanted to marry and me and my wife were forced to agree. But we never wanted it. He never liked to work. I build them a house. He never came a day and assist. I took him in the bush to work with me. He spent some time, came out bought a car, and the people later repossess the car as he always by the drug house," the distraught father said.
According to Nicholson, the suspect has been employed with the prison service for some six months now. He said that Prince had threatened to kill his daughter many times and due to the nature of their relationship, she would hide certain things from him.
"My daughter never tell me things, because she knew we did not agree. But when things were overbearing she came to me and said she has had enough. I supported her decision. I told her to come home and that is what she did, and I would take her, or her brother to work after he threatened to kill her. Her phone has all the threatening messages. Just this morning [Wednesday] he called. He spoke to their daughter…he later spoke to her."
Lonnet's mother, Donna, was overwhelmed with grief, and could be overheard saying, "he kill my baby, he kill my baby."
Mental health staff in shock
When this newspaper visited the mental health facility, employees and friends could be heard screaming and there was no dry eye, as the gruesome killing just after the Christmas holidays tore the hearts of many. Director of Health Services, Jevaugn Stephens, in an invited comment said he was saddened by the incident and has expressed sympathy to the bereaved family.
He noted that while the security personnel needs to be more vigilant, the perpetrator was a known visitor to the health institution. Stephens pleaded with women to speak out against domestic violence and seek help when necessary.
He said too that the health services will render the necessary assistance as is customary. Meanwhile, the body of Lonnet was taken to the Arokium Funeral home where it awaits a post-mortem.