THE world's fastest aircraft, the Xb-1, a supersonic jet faster than the Concorde, is being developed by Boom Technology Inc and will fly late in 2017.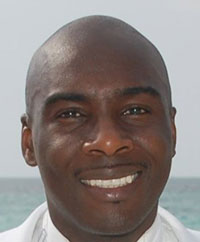 And the company's Principal Engineer, Aerodynamics, who is playing a key role in the development of the super-fast jet, has Guyanese roots.
The company unveiled the prototype for the aircraft a week ago. It is nicknamed the "Baby Boom"and is being designed to achieve Mach 2.2 or 1,451 MPH — 2.6 times faster than other airliners.
According to CNN, Boom Technology and Virgin Atlantic which is owned by Sir Richard Branson, tickets for the estimated three- and-a- half hour trip from New York-London round trip will be about $5,000. Boom said the aircraft will be able to carry up to 55 passengers
It has been in the making two years to date and is set to establish a benchmark for speed and efficiency. With all safety considerations exhausted, it has already attracted the attention of aviation pundits globally, who have viewed the aircraft as the next generation of speed, beyond the famed Concorde.
The aircraft, according to the manufacturer, leverages advances in aerodynamics, materials, and propulsion to achieve efficient supersonic flight.
The company noted on its website, that the aircraft has been refined through 1,000+ simulated wind tunnel tests. Boom jets feature three major aerodynamic advances from Concorde: an area-ruled fuselage, a chine, and a refined delta wing.
"Supersonic performance is highly sensitive to airplane cross-sectional area. Our aircraft features a gentle tapering in the aft cabin, where the wings are thickest, reducing cross-section and disturbances to the surrounding air," Boom Technology noted on its website.
The XB-1 is powered by three General Electric J85-21 turbojet engines and fed by two variable geometry supersonic intakes. Each engine has a variable geometry nozzle system, the company said. The XB-1 uses a compact turbojet engine, while the production airliner uses a medium-bypass turbofan engine for additional quiet and efficiency. The aircraft will be tested at Centennial Airport in Denver, Colorado, late next year.
So who is the Guyanese linked to the aircraft?
Kenrick Waithe is the Principal Engineer Aerodynamics at Boom Technology, Inc. He is Guyanese by birth and grew up in South Ruimveldt, Georgetown in the 1980s. Waithe migrated several years later as a child and was immediately fascinated with the world of Physics. His father, Dr Waithe, operated out of Mahaica, East Coast Demerara at the time.
Meanwhile, the engineer appeared in infomercials released last week on YouTube by the company and explains the propulsion system utilised to develop the superjet.
Waithe currently chairs the American Institute of Aeronautics and Astronautics (AIAA) Boom Discussion Group. AIAA is the professional society for the field of aerospace and engineering.
According to Boom Technology, Waithe previously headed the Gulfstream team developing quiet boom and supersonic aerodynamics and was also responsible for advanced computational fluid dynamics methods applied across all Gulfstream aircraft. He also worked with Lockheed Martin and NASA's Langley Research Centre. As such, he carried a wealth of knowledge to Boom Technology.
According to his professional profile, Waithe is a member of a small research team conducting supersonic research on sonic-boom suppression that if successful, could change the current worldwide ban on supersonic flight over land.
He is responsible for complex aerodynamics and propulsion integration of supersonic and subsonic concepts using computational fluid dynamics (CFD). He also conducts time-accurate analyses on aircraft with propulsion integration and is also responsible for identifying and developing new methods and processes to analyse and design a full aircraft with an integrated propulsion system.
Waithe obtained his education from the George Washington University where he read for a Master's degree in Aerospace, Aeronautical and Astronautical Engineering. Previously, he attended the University of Pennsylvania where he read for a Bachelor of Science in Mechanical Engineering.